"Glorious Gmmk PRO might be the best Barebone keyboard in the market". Gaming is not always about getting the most expensive and top-tier things. Entry-level decent hardware could be enough for most, but to get the most cutting edge technology sometimes brings you the 'no-compromise' experience. We here at RedJacket are all about the best performance that your budget can easily handle. Thus we talk about the great pieces of hardware that would interest our viewers. In this article, we will be covering one of the most essential components in a gamer's and a computer hardware enthusiast's desk, the keyboard.
Also Read: TOP 5 GAMING KEYBOARDS: 2021 EDITION.
We will be checking out the option that is presented by Glorious, called the GMMK PRO. If you are looking to buy this one, in particular, be sure to check out all the details as provided in this article.
Glorious GMMK PRO
Glorious has been making high-end gaming equipment like keyboards, mouses, mousepads, wrist rest, etc. for a long time now. We will see how does the GMMK PRO stand out in this budget category of keyboards among its rivals.
The GMMK PRO is defined as an 'ultra-premium, gasket-mounted' option that is especially targeted at professionals, gamers and enthusiasts. This product is a 75% layout keyboard and just by the looks of it, it gives out a premium feel.
Design and Layout
The GMMK PRO is specially designed to deliver in both the looks and performance sector. The ultra-premium build quality and premium look are made with gasket mounted plate design. This helps it to provide a natural dampening on keystrokes which delivers a unique haptic and a distinct acoustic typing experience to the users. The front elevated, inclined design gives the user a more suitable angled design, ideal for typing and gaming.
It also comes in a CNC Aluminium case which adds up to its premium design. This case is individually machined and produced with high-quality aluminium. The beautifully engraved 'GLORIOUS' branding at the bottom of the keyboard is something to look out for on its own. It comes without any keycaps or key switches, so you can customize it to your liking. The keyboard comes within the CNC Aluminium case, followed by Gasket Mounted Plate design and Goat Stabilizers beneath.
The GMMK PRO is made with a 75% keyboard layout which provides a more compact, 10 keyless configuration. This looks neat for very setup and becomes an eye-candy on your desk. Apart from this, customers can choose from the two layouts available, the ANSI (US) or the ISO (INT'L). And for the colour section, it is available in BLACK SLATE and WHITE ICE options.
The Glorious GMMK PRO also has its signature side lighting panel. It is fully programmable with 16.8 million colours RGB.
Keys and Switches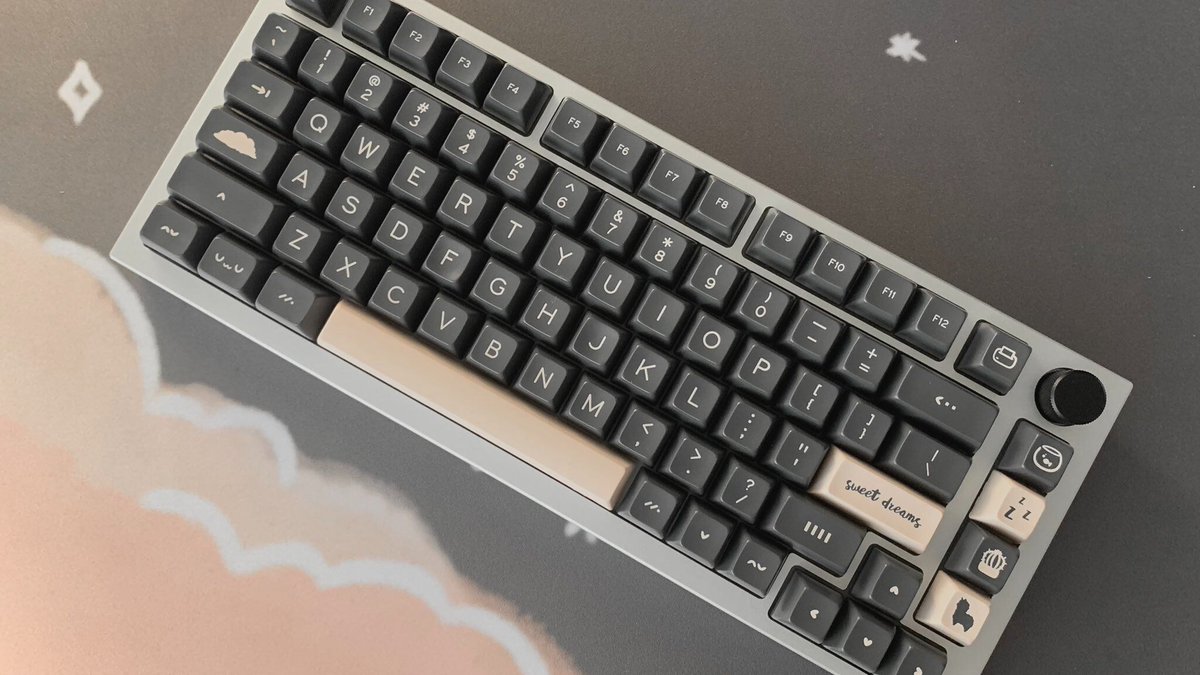 The Glorious GMMK PRO is a barebone model, which means that it does not come with any keycaps or key switches. So users can have the opportunity to set it up with their favourable switches and keycaps options. Other than that, there are a total of 82 key configurations available ( a total of 83 including the Rotary Encoder). There is an option of fully customizable 16.8 million per-key RGB, which is great for most types of customization needs. It has south-facing LEDs and supports multiple colour modes and animations pre-available ( which can be done via the GloriousCORE software).
The Rotary Encoder
One of the eye-catching features in this 10 keyless form factor keyboard is the added function of the Rotary Encoder. The Rotary Encoder is a full programmable Knob that is intended to control music volume and media by default. It can be customized up to your liking and is fully clickable.
Key features of the GMMK PRO
⦁ 75% Layout fully modular with hot-swapping.
⦁ GASKET MOUNTED PLATE DESIGN
⦁ CNC ALUMINUM CASE
⦁ Screwed in, pre-clipped and factory lubed GOAT STABILIZERS
⦁ 16.8 million colours per-key fully programmable RGB
⦁ Fully programmable Rotary Encoder
⦁ 5 Pin Modular PCB
⦁ 32- Bit ARM processor
⦁ Removable USB- C Cable
⦁ OPEN SOURCE FIRMWARE COMPATIBLE
⦁ GloriousCore software for customization
Other Technical Specification
⦁ Case Material- Aluminium
⦁ Dimensions- 332mm x 32mm x 135mm
⦁ Removable Keycaps- Yes
⦁ Removable USB Cord- Yes
⦁ Interface- USB-C 2.0
⦁ Modular Switches- Yes
⦁ Weight- The Barebone model is estimated to weigh 3.3 lbs
⦁ Typing Angle- 6 Degrees
⦁ Cord Length- 6 feet braided USB cable
⦁ Keycap puller tool- Included
⦁ Switch Puller Tool- Included
⦁ RGB- 16.8 million colour RGB LED backlight (south-facing) and LED sidelights
⦁ N-Key Rollover- Full NKRO
⦁ Firmware- Open source firmware Compatible (QMK)
⦁ Warranty- 2 Years
The overall feature per buck makes it a bang for your money. The Glorious GMMK PRO starts at $ 169.99 making it a prime choice for a fully customizable gaming keyboard.
Also Read: 8 Best Gaming Esports Mouse 2021 EDITION.
Be sure to follow us at redjacket.gg for more gaming and hardware related articles and news.