After a long waiting period, Asus has recently unveiled their flagship X570 motherboard called the Asus Rog x570 Crosshair VIII Extreme. This is going to be the successor to their premium option, the ASUS ROG Crosshair VIII Dark Hero. This Extreme brings so much to the table with features like WiFi 6E support, Marvell® AQtion 10 Gb Ethernet, Intel® 2.5 Gb Ethernet, a 20- phase power delivery, up to 5 PCIe 4.0 M.2 Drives, and much more.
With each passing day, gaming is becoming more and more popular. Its transition from a mere hobby for passing time to a full-blown profession was something many didn't see coming. Nowadays, games are becoming more and more advanced in the sense of gameplay and graphics. Just as any system can not handle them at their optimum settings, here comes the necessity for top-tier gaming hardware.
Also Read: ASUS ROG STRIX B550-E GAMING vs ASUS ROG STRIX B550-F GAMING (Which is Better?).
The Asus Rog x570 Crosshair VIII Extreme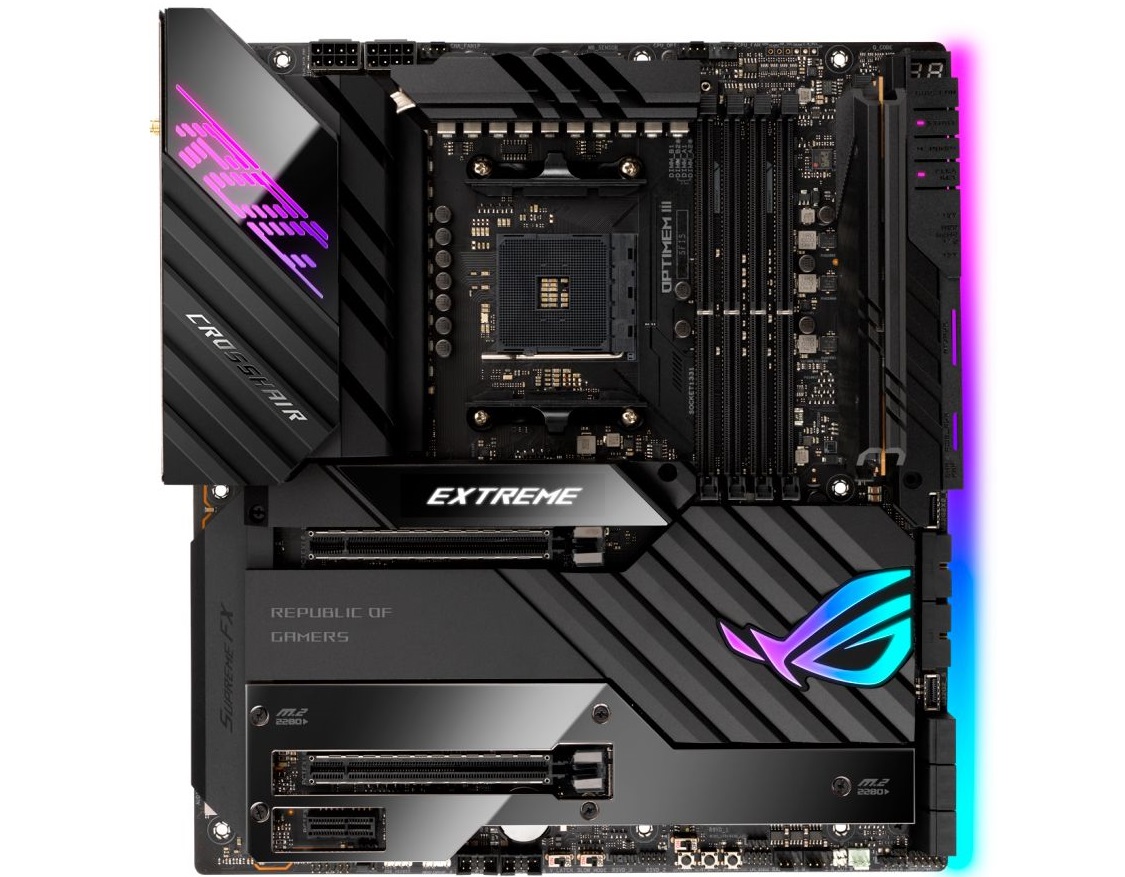 Earlier this month, Asus revealed the x570 Crosshair VIII Extreme and it is supposed to overtake their then premium option, i.e. the VIII Dark Hero. The x570 Crosshair VIII Extreme is the new optimum choice that is bound to deliver a seamless gaming and multi-tasking experience. This 'no compromise' premium motherboard is packed with all the modern features you would want in your system. So let us get a look into all the important features it has to offer to us gamers.
Features of the Asus Rog x570 Crosshair VIII Extreme
AMD AM4 Socket: The Asus Rog x570 Crosshair VIII Extreme is up and ready for the AMD Ryzen 5000 series, 5000 G-Series, 4000 G-Series, 3000 Series, 3000 G-Series, 2000 Series, and 2000 G-Series desktop processors. Thus making it a viable option for you, even you are looking to upgrade in the future. This headroom for upgrade is really a great factor for a premium option.
Memory Support- The VIII Extreme comes with DDR4 OPTIMEM III and supports up to 4 x DIMM along with the option to run it in Dual Channel. The four memory slots will be able to support up to 128 GB of DDR4 ram.
The 'Robust' Power Delivery- The 18+2 power stages of the VIII Extreme are rated for 90 A. It also offers ProCool II power connector and 10K Japanese-made black metallic capacitors.
Storage- The storage extension that the VIII Extreme has to offer is more than an average gamer would dream of. The motherboard offers a 5 x M.2 Socket. This includes 2 x M.2 22110 (PCIe 4.0×4 & SATA from DIMM.2), 2 x M.2 2280 (PCIe 4.0 x4) and 1 x M.2 2280 (PCIe 4.0* x4 & SATA). The three onboard PCIe 4.0 x 4 M.2 Slots, with the option to add two further PCIe 4.0 x 4 slots with the help of the included DIMM.2 slot is really amazing. It is located at the rightwards of the four memory slots. There are six SATA ports available too, for your SATA devices, with the support for RAID 0, 1 and 10 arrays.
Multi-GPU SLI Support- The VIII Extreme comes with 2 x PCIe 4.0 x16 Safeslots (x16, x8/x8) and a single PCIe 3.0 x1 support.
Comprehensive Thermal Design- By the looks of the VIII Extreme, one can easily note that it is made with the intention to offer great thermal performance. Most of the vital parts are covered with an enlarged VRM heatsink plus integrated aluminium I/O cover and thermal pads that offer high conductivity. There are 5 M.2 heatsinks with backplates and ROG water-cooling zone which will offer the best thermal conductivity for your storage extensions.
Connectivity Options- The VIII Extreme offers a great range in terms of connectivity options for your modern requirements. One of the attractive features is the front panel USB 3.2 Gen 2×2 front panel with PD3.0 60W fast charging. 10 Gb Marvell® AQtion Ethernet, Intel 2.5 Gb Ethernet, Asus LANGuard, onboard WiFi 6E and dual Thunderbolt™ 4.
Gaming Audio- This motherboard offers high fidelity sound by utilizing ROG SupremeFX ALC4082 with ESS® ES9018Q2C DAC bundled with the ROG Clavis USB digital-to-analog converter. This is an excellent choice for gamers to experience prime quality audio.
Aesthetics and Looks- The Asus Rog x570 Crosshair VIII Extreme has the looks that will make your setup both eye-catchy and premium. It has a beautiful 2@ LiveDash OLED, along with Asus' exclusive Aura Sync RGB lighting. It also supports a single RGB header and 3 addressable Gen 2 RGB headers. The mean yet savvy looking ROG logo and Asus branding.
Our Thoughts
By the specifications and features available for the price, the Asus Rog x570 Crosshair VIII Extreme seems to be an insane deal by all means. The beautiful look, 128 GB DDR4 memory support, five M.2 support, built-in WiFi 6E, etc. are some of the key points that the board has to offer that you should invest in for your next dream AMD build.
Also Read: Nighthawk XR1000 Pro Gaming Wi-Fi 6 Router Review.
Be sure to follow redjacket.gg for more gaming, hardware, and technology-related articles and news.