Valheim was released earlier this year, that is, on 2nd February 2021, and has managed to sell more than 6 million copies. The game is based on Norse mythology and puts the players amongst the vast world of uncertainty. The game is still in early access and before its full release, we would like to share a survival guide with our viewers so they can easily hop into the game at any point like a breeze.
Essential Tips for Beginners
Every survival game has been built differently, they have a different storyline, system, accessibility, objectives, etc. But something always remains common, and one should always be aware of those as they will ease up your stay in the world of Valheim.
Building a Shelter
Survival video game basics tell us that the prime thing you should be focused on while playing this genre is to scout and select a favorable spot to build your shelter. Without a shelter or home, you will have no protection from the outside affecting elements or a hub to come back to. So that is always important. You can always start with something basic and build your up to something large. Also, light a fire to have light at night time and cook food.
Craft basic tools
The next thing players should do is to craft some basic tools to get set up for the next few hours of the game. You can not do much with bare hands that's why tools are necessary. In Valheim, you should craft axe, pickaxe, hammer, crude bow and arrow, fishing rod, etc. These are some of the essential items you will need to chop trees, catch fish and defend yourself from threats from a distance.
Gather Food
Another important thing in survival games is to manage your health, hunger, and thirst. The same case is here in Valheim, gather whatever food available nearby your first spawn and work with it until you get the hand of your condition.
Explore the nearby area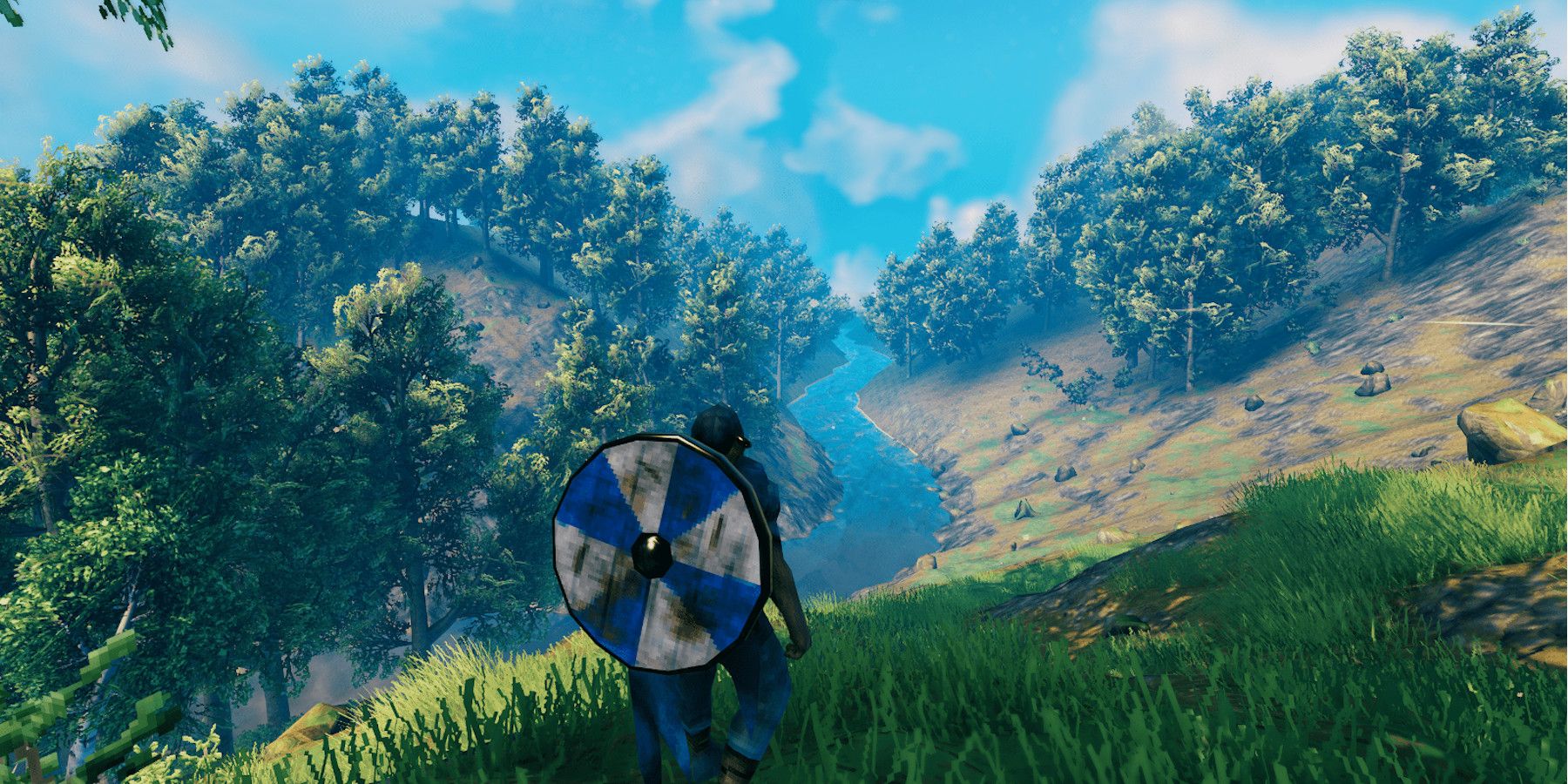 Valheim has a vast map and many biomes to explore. But it is not wise to set sails at the beginning of the game. Be sure to set up a base, gather food, and complete all the requirements, mentioned above, first. Then start by slowly exploring the land around you and discover nearby items. Your first goal should be set up properly and defeat the first game boss, rather than roaming around.
Don't engage in early Boss Fights
The boss fight is an essential aspect of the game but pre-engaging in such is not a wise idea. Be sure that you are properly prepared for the fight as it is a bit more difficult than you would think. Get set up, manage your status, and built a few first-grade weapons and armor before engaging in a boss fight. Also, keep some spare food as you would need them to heal when low in HP while combat.
Manage your Inventory space
In the game, you will have enough ways to store multiple items around your base but the storage on the go remains limited. There are only 32 slots of storage slots that you can have on the go and managing this fixed inventory is necessary. Only keep things that are important to you, like food, meds, weapons, and tools, and keep some slots open for some stuff that you would need to carry in the future.
How to defeat Eikthyr
Eikthyr is the first boss fight that Valheim has and you would need to defeat that to progress further into the game and unlock new things. After setting up and being prepared, engage in the battle. You will find the Eikthyr's sacrificial stone at your first spawn point in the game. You would need to hunt two deers and offer those trophies to it. After that, a new location will be revealed on the map within the Meadows. Visit there and you will find the first game boss. Eikthyr has a total of 500 HP and has three moves called i) Antler Swipe, ii) Lightning, and iii) Stomp. Don't attack continuously and try juggling between time to time. Wait for it to attack first and try to stay out of its way, in other words, dodge. Then charge your attacks with your weapons, like a sphere. Using a bow and arrows setup is nice to inflict damage from the distance and makes it easy to dodge on the rebound. The process could be minutes long but will be fruitful. and in no time, you will defeat your first Valheim boss.
Also Read: BATTLEFIELD 2042- IS IT A MULTIPLAYER HEAVEN?.
Be sure to follow us at redjacket.gg for more Valheim guides and gaming and tech-related articles.