There are multiple genres of games to select from but the classic racing genre still remains one of the best choices for gamers. When you mix a compelling story, beautiful graphics, locations, cars, and real-life driving simulation, you would get a racing game that is worth playing. So, in this article, we will be looking at the top 5 racing games that are still worth playing in 2022.
Top 5 Racing Games to Play in 2022
There are a lot of racing games as of now, and many of them are being played by thousands, every month. But some of them remain at the top for their unique presentation and features, making their places on your storage drive worth it.
5) Riders Republic
This is one of the recently launched racing games that had taken the community by storm. Riders Republic was released on 27th October 2021 and was developed and published by Ubisoft Annecy and Ubisoft. The game features a massive multiplayer community and diverse racing activities to select from. There are up to 50 players playing in real-time on each game, around the vast and diverse open world, comprised of Canyon, Snowy Mountains, Valley, Desert, etc. You can go Biking, Snowboarding, Skiing, or flying around in a Wingsuit. The game is available on PS4 & 5, Xbox One, Series X & S, and Microsoft Windows PC, with full cross-play support.
4) TrackMania 2
Trackmania 2 is another contender from Ubisoft and is an MMO PC racing game by Nadeo. The game takes the traditional racing genre and goes further beyond. It features beautiful graphics, a thrilling racing experience, and a massive multiplayer mode with up to 200 players. The great thing about this game is that you can create your track course according to your imagination and share it with the entire community. The game is available for Microsoft Windows PC.
3) Crew 2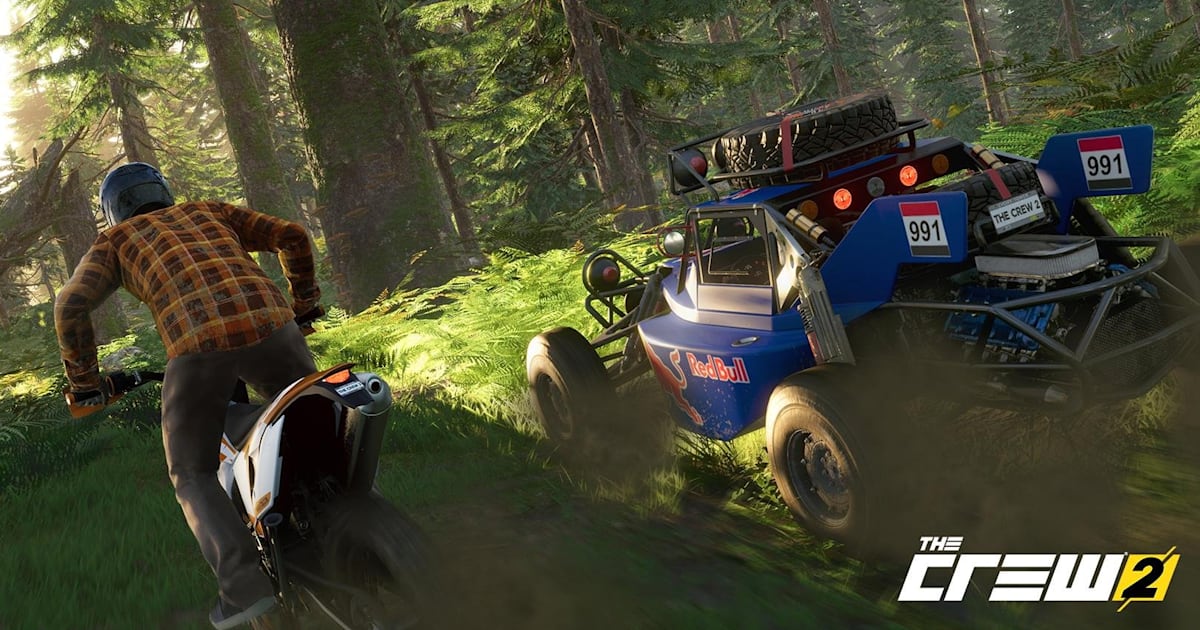 Crew 2 was released back in 2018 and still holds up a massive player base. It is an open-world racing game developed by Ivory Tower and published by Ubisoft. The perfectly made open-world environment featured in the game lets players have an immersive experience while free-roaming around the scaled-down version of the USA. There are multiple challenges, multiplayer mode, and features racing in air, water, and ground with its instant vehicle switch between Hypercars, Planes, and powerboats. The game is available on PS 4, Xbox One, and Microsoft Windows PC.
2) Project Cars 2
Project Cars 2 was released back in 2017 and remains one of the most commonly played racing games of recent times. The game has been developed by Slightly Mad Studios and published by the Bandai Namco Entertainment group. The game is intended to deliver the soul of motor racing with beautiful graphics and technically advanced and accurate mechanics. It features more than 180 race and road cars, a full 12K resolution & VR support, finely tuned by real drivers and real-life car handling, dynamic surface and weather physics with the loose surface, full gamepad, and game wheel handling. It is one of the best games that deliver an accurate real-life racing depiction to the best. The game is available for PS 4, Xbox One, and Microsoft Windows PC.
1) Forza Horizon 5
Forza Horizon 5 is a few months old and has already won a lot of appreciation in the gaming community. The game features breathtaking scenarios with an ever-evolving open world that is based in Mexico. There are also hundreds of different types of vehicles to select from, across deserts, jungles, historic cities, beaches, snow-capped volcanoes, and canyons. There are a lot of challenges scattered all over the vast open world, along with well-made Horizon story missions. You can play along with your friends or random players and create your own racing world fantasy, where you have the wheel of fortune. And, did we mention the epic, fun to play, battle royale mode? The game has been developed by Playground Games and published by Xbox Games Studios. It is the 12th title in the series and is available on Microsoft Windows PC and Xbox One, Series X & S.
This concludes today's article about the top 5 racing games to play in 2022. For any suggestions, do comment down below. Be sure to follow us at redjacket.gg for more Gaming, Anime, and Esports news, and articles.