Who does not love a good protagonist story? The adventure video game genre offers players to play the role of a protagonist in an interactive story driven by exploration. Let's take a look at the top 15 adventure games released.
Also Read: Top 10 Games with the Most Realistic Locations.
15. Half-Life: Alyx
Release Date: 23 March 2020
Developers: Valve Corporation
Publishers: Valve Corporation
After the loss of the Seven-Hour War, the residents of City 17 start to live under the rule of the invaders. But among the residents, Earth's most resourceful scientists Dr. Eli Vance and his daughter Alyx Vance spark the revolution. They conduct critical research and build tools for the residents to fight the invaders.
14. Batman: Arkham City
Release Date: 18 October 2011
Developers: Rocksteady Studios
Publishers: Warner Bros. Interactive Entertainment
A direct sequel to Batman: Arkham Asylum and the second installment in the Batman: Arkham series, this game is inspired by the DC comics. Batman needs to uncover the evil scheme of Hugo Strange, the warden of Arkham City.
13. Portal 2
Release Date: 18 April 2011
Developers: Valve Corporation
Publishers: Valve Corporation, CyberFront Corporation
Players play as Chell, the silent protagonist of the Portal series, who is navigating the reconstructing Aperture Science Enrichment Center. Wheatley the robot and Cave Johnson, the Aperture founder, are introduced in this game.
12. The Elder Scrolls V: Skyrim
Release Date: 11 November 2011
Developers: Bethesda Game Studios
Publishers: Bethesda Softworks
Set in Skyrim, the northernmost province of Tamriel, 200 years after the events of Oblivion, the game offers players to play as Dragonborn who is tasked to defeat Alduin the World-Eater, a dragon who is prophesied to destroy the world.
11. Final Fantasy VII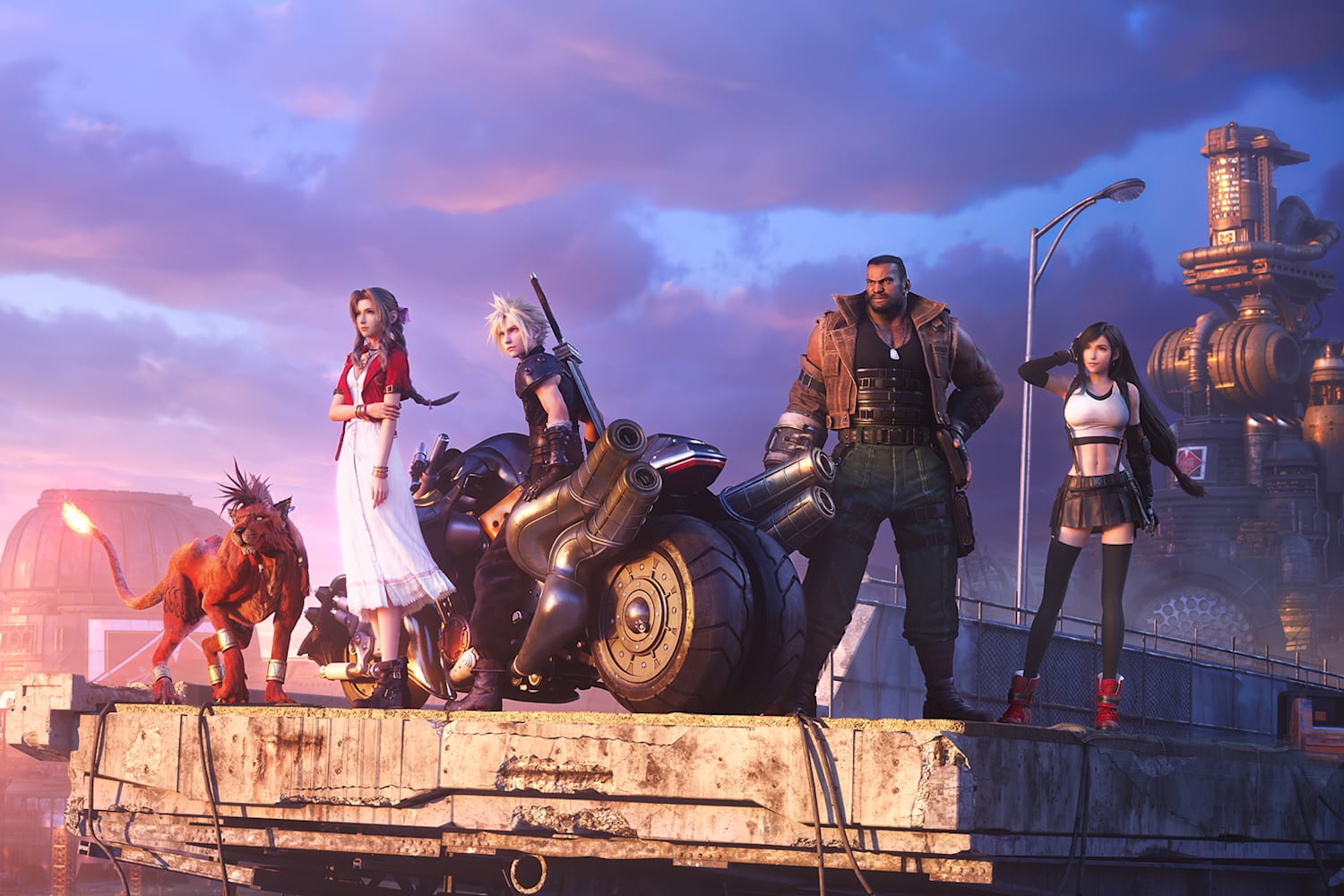 Release Date: 31 January 1997
Developers: Square Enix, Square
Publishers: Square Enix
The seventh main installment of the final fantasy franchise, this game protagonist is Cloud Strife. He is a mercenary who decides to join an eco-terrorist organization. His primary motive is to stop a big corporation from using the planet's life essence as an energy source.
10. Chrono Trigger
Release Date: 11 March 1995
Developers: Square Enix, Square, Tose
Publishers: Square, Square Enix
Frequently cited as one of the greatest video games of all time soon after release, Chrono Triggers follows a group of time travelers as they prevent a global catastrophe.
09. Star Wars: Knights of the Old Republic
Release Date: 20 December 2011
Developers: BioWare, Aspyr, Electronic Arts
Publishers: Lucasarts, Aspyr, Electronic Arts, The Walt Disney Company, Lucasfilm, Aspyr (Mac, Linux)
This game is set approximately 4000 years before the formation of the Galactic Empire. Darth Malak has unleashed a Sith armada against the Galactic Republic and the protagonist as a Jedi must travel to different planets in the galaxy to defeat Malak.
08. Mass Effect 2
Release Date: 26 January 2010
Developers: BioWare
Publishers: Electronic Arts
Mass Effect 2 is the second installment in the Mass Effect series and a sequel to the original Mass Effect. The protagonist is Commander Shepard who is tasked to assemble and gain the loyalty of a diverse team to stop an alien race in a suicide mission.
07. Grand Theft Auto V
Release Date: 17 September 2013
Developers: Rockstar North
Publishers: Rockstar Games
Players can opt in to chose one of the three protagonists – Michael De Santa (Retired bank robber), Franklin Clinton (Street gangster), and Trevor Philips (Drug dealer and arms smuggler). The story follows their attempts to commit heists while under pressure from a corrupt government agency and powerful criminals.
06. Uncharted 4: A Thief's End
Release Date: 10 May 2016
Developers: Naughty Dog
Publishers: Sony Computer Entertainment
The fourth entry in the uncharted franchise, Uncharted 4 is set several years after the events of the previous game. Nathan Drake is a former treasure hunter who along with his partner Victor Sullivan searches for clues for Henry Avery's long-lost treasure.
05. Metal Gear Solid
Release Date: 3 September 1998
Developers: Konami, Konami Computer Entertainment Japan
Publishers: Bluepoint Games, Ideaworks Game Studio, Kojima Productions, Konami, PlatinumGames, Silicon Knights
This series of games is credited for the introduction of stealth games in the adventure genre. Several sequels have been released for this title for multiple consoles. They have successfully expanded the original game's plot and added new characters.
04. God of War
Release Date: 22 March 2005
Developers: Santa Monica Studio, Ready at Dawn, Daybreak Game Company, Javaground
Publishers: Sony Interactive Entertainment, Capcom, Sony Pictures, Sony Interactive Entertainment Europe
One of the most famous game series, God of War follows the life of Kratos. From being born as a Spartan warrior to killing the god of war and becoming a god himself to raising his son and starting a family, God of War is truly a diverse game.
03. Last of Us
Release Date: 14 June 2013
Developers: Naughty Dog
Publishers: Sony Computer Entertainment
Players play as Joel, a smuggler who has to escort a teen girl named Ellie across the post-apocalyptic United States. In this process, they also have to protect themselves against hostile humans and cannibalistic creatures infected by a mutated fungus.
02. The Witcher 3: Wild Hunt
Release Date: 14 June 2013
Developers: Naughty Dog
Publishers: Sony Computer Entertainment
Set in a fictional world based on Slavonic mythology, players play as the protagonist Geralt of Rivia. Geralt is a monster slayer known as a Witcher, and he is in search of his adopted daughter.
01. Red Dead Redemption 2
Release Date: 14 June 2013
Developers: Naughty Dog
Publishers: Sony Computer Entertainment
The story is set in the year 1899 and follows Arthur Morgan as the protagonist who is a member of the Van der Linde gang. Arthur is tasked with the mission to deal with the decline of the Wild West while surviving against government forces, rival gangs, and other adversaries. John Marston, the protagonist of Red Dead Redemption is also in the plot as a fellow member of the gang.
Read our last article: Top 7 Games that you could buy in the upcoming Steam Summer Sale 2021.
This was our take on the top 15 adventure genre video games. Let us know in the comments below if we missed something. Keep following redjacket.gg for more ratings. Keep gaming.