It was a sudden shock to the Indian gamers that PUBG Mobile the mobile gaming
trend was banned. Well a good thing for us is that we don't need to worry as we can
try some other games just like PUBG Mobile.
Here are top 5 alternatives for PUBG Mobile :-
Garena Free Fire – The Cobra
ScarFall – The Royale Combat
Call of Duty: Mobile
Battle Prime: Mobile Gun Brawl
Retract: Battle Royale
Garena Free Fire – The Cobra

Free Fire is the ultimate survival shooter game available on mobile. Each 10-minute
the game places you on a remote island where you are pit against 49 other players, all
seeking survival. Players freely choose their starting point with their parachute and
aim to stay in the safe zone for as long as possible. Drive vehicles to explore the vast
map, hide in wild, or become invisible by going prone under grass or rifts. Ambush, snipe,
survive, there is only one goal: to survive and answer the call of duty.

Search for weapons, stay in the play zone, loot your enemies and become the last
man standing. Along the way, go for legendary airdrops while avoiding airstrikes to
gain that little edge against other players.

Fast and Lite gameplay – Within 10 minutes, a new survivor will emerge. Will you go
beyond the call of duty and be the one under the shining light.
Create squads of up to 4 players and establish communication with your squad at the
very first moment. Answer the call of duty and lead your friends to victory and be the
last team standing at the apex.
ScarFall – The Royale Combat
Scarfall, the ultimate battle royal for IOS devices. It is an offline and online shooting game with survival challenges. The best multiplayer game with strategic play. Experience the journey of a real survival shooter on the battlefields. Explore the environments of the shooting battlegrounds with parachute landing from the high-speed flying helicopters. Encounter the best strategy action multiplayer game to hit your app store this year. Build up your own rules for the online and offline multiplayer shooter on your iPhone. Survive in the shrinking safe zone with the utmost 3 chances to win over the war and be the #1 survivor on unknown battlegrounds.

Featuring a team deathmatch and solo deathmatch which you can play online or
offline with an intense 4v4 squad mode game. Play as a lone soldier or with a clan to combat
with rivals answering the call of duty. Scarfall offers TPS (Third Person Shooter) and
FPS (First Person Shooter) plays with modern vehicles to roam around quickly and
reach the final destination in a shrinking circle.

Break the battle royal standards and dive into the modern warfare of unknown
battlegrounds to be the last man standing in a way of the ultimate hitman commando in
this modern shooting game. So, grab your guns and bring your guts to survive the
ultimate action survival shooter game, Scarfall- The royal combat.
Call of Duty: Mobile
Season 2: Day of Reckoning. New maps, Shipment and Shoot House. Gunfight: Sniper mode. Plus 50 tiers of rewards in the new Battle Pass. Official CALL OF DUTY designed exclusively for mobile phones. Play iconic multiplayer maps and modes anytime, anywhere. 100 player Battle Royale battleground? Fast 5v5 team deathmatch? Sniper vs sniper battle? Activision's free-to-play CALL OF DUTY: MOBILE has it all.

Console quality HD gaming on your phone with customizable controls, voice and text
chat, and thrilling 3D graphics and sound. Experience the thrill of the world's most
beloved shooter game, now on your phone for easy on-the-go fun.
Play iconic multiplayer maps from Call of Duty: Black Ops and Call of Duty: Modern
Warfare, available for the first time for free. Or squad up with friends in a brand new
100-person battle royale survival map. Join the fun with millions of players from all
around the world. As you play CALL OF DUTY: MOBILE you will unlock and earn dozens
of famous characters, weapons, outfits, scorestreaks, and pieces of gear that can be
used to customize your load-outs. Bring these load-outs into battle in Battle Royale and
thrilling PvP multiplayer modes like Team Deathmatch, Frontline, Free For All,
Search and Destroy, Domination, Hardpoint, and many more.

Use skill and strategy to battle to the top in competitive Ranked Mode or to win the
most Clan prizes as you play with friends. Compete and fight against millions of
friends and foes in this thrilling free-to-play multiplayer shooter.
Whether in gameplay, events, controls, or load-outs, CALL OF DUTY: MOBILE offers
complexity and depth in an ever-changing experience.
Battle Prime: Mobile Gun Brawl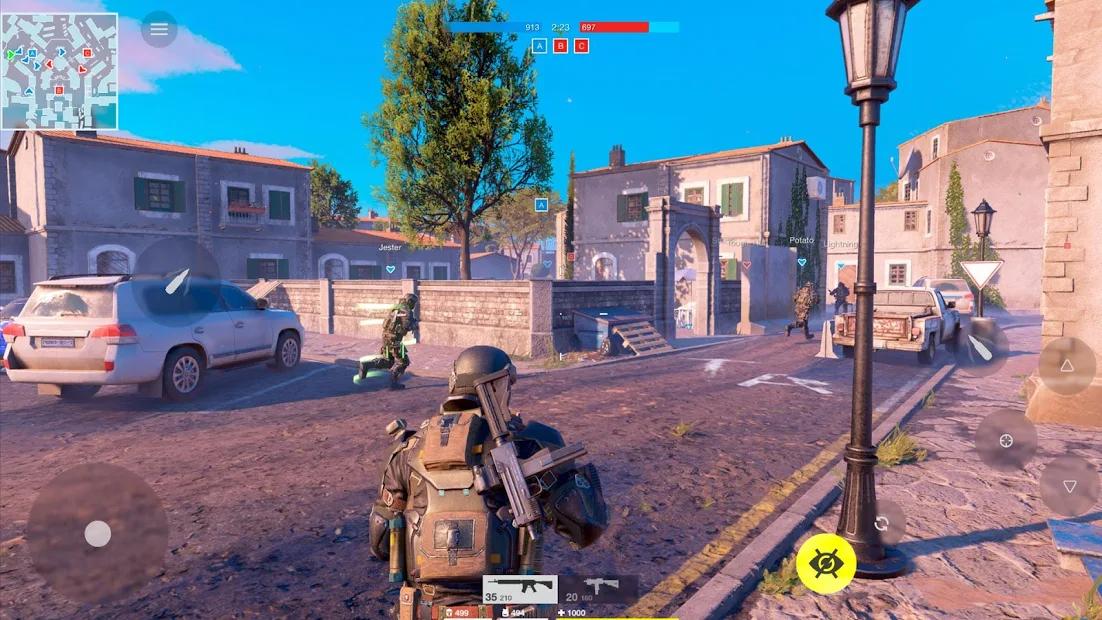 Battle Prime gives you an unforgettable experience — join this multiplayer third-
person shooter, choose your tactics, try all the stunning arsenal, and all this while
enjoying console-level graphics.
Become the number one player in next-generation battles using your mobile device!
Play as Primes: universal avatars with unique abilities. Choose your playstyle: will you
beat everybody with hulk-like strength, or surpass with a flash speed? Every Prime
has his own tactics, so choose your combat style, win and enjoy your triumph in a memorable spectacular battle!

Show your power during dynamic 6v6 battles. Switch between Primes on re-spawn,
use their abilities and equipment to control the course of the battle, and win. Beat all your
enemies, get maximum points, and move higher to the top of the rating.

Every victory gets you closer to the top. Prove yourself in battles, gain rating points
and unlock improvements — new Primes, new weapons, and kit. Experience the new
generation of realistic graphics — enjoy amazing visual effects, detailed characters, and maps! The Battle Prime engine is optimized for the majority of mobile devices, so you can fully enjoy dynamic battle scenes. This game is the modern world battle royale game that is enjoyable by anyone at any age.
Retract: Battle Royale
Retract is a brand new multiplayer, Battle Royale game, with unique mechanics for
more competitive gameplay!
FEATURES :
High-quality realistic graphics on mobile.
Smooth multiplayer experience, squad up with friends!
Fast matches with ACTION-packed gameplay!
Skill-based gun mechanics, NO auto shoot, etc.!
NOT PAY TO WIN, all players are equal!
Barricades! If you get stuck in an open area, you can deploy cover and save
yourself and teammates.
Realistic weapons, scopes, and attachments.
Customize your characters and clothing.
Practice at the shooting range while waiting for a match.
Much more to come!!
We all know that everyone loves PUBG mobile and for some, it cannot be replaceable. We have to stay positive as the authorities are doing their best to relaunch PUBG mobile in India, and till then we can do nothing but hope for the best and enjoy some of the best alternative titles available out there. Don't forget to comment your thoughts on our picks and keep following redjacket.io for more exciting articles like this.