Elden Ring is the all-new hype in the gaming world and the game has received appreciation from major video game critics and gaming YouTubers and content creators around the world. The game was released a couple of days ago and it has a lot of top offers in terms of its gameplay. If you don't know what the game is about then let us describe it to you.
Elden Ring is the all-new Action, Role-Playing game that is based on an open-world setting. The game can be described closely to the likes of Demon Souls and Dark Souls if we had to compare. It brings the same RPG element and thrilling combat with high stakes on the board, right onto your gaming screen. The game also allows players to have a customization option available in terms of gears, weapons, and other utilities. One such item is the Spirit Calling Bell in Elden Ring, which is a must-have item for your further journey into the game.
About the Spirit Calling Bell in Elden Ring
The Spirit Calling Bell in Elden Ring provides one of the coolest tricks that you can use in combat. By using this item in the game, players can summon spirits in the shape of NPCs and other friendly monsters to come and aid them in battles. It can be a game-changer during tough and decisive battles and maybe bring you out of a pinch situation. This uniquely relies on Spirit Ashes to run as it works as its fuel. You will need to collect Spirit Ashes, which you will find across the game, to use this device.
How to obtain this Spirit Calling Bell in Elden Ring?
The procedure to get this device in the game is not much of a hassle. Though many players could miss out on this opportunity. There are two ways through which you can obtain the Spirit Calling Bell in Elden Ring. Let's start with the normal one.
When you get into the game, open your map as it will help you locate. Look for the place tagged as Elleh site of grace or the Church. It should be around the North of the Stranded Graveyard. Once you find it, head towards that location and from then, follow an eastward path. This should lead you to the main road. While walking down this path, players will eventually come across the Greatfront Ruins. You will find a site of grace at either of the sides, Use up any of them and the NPC named 'Melina' will appear in front of you.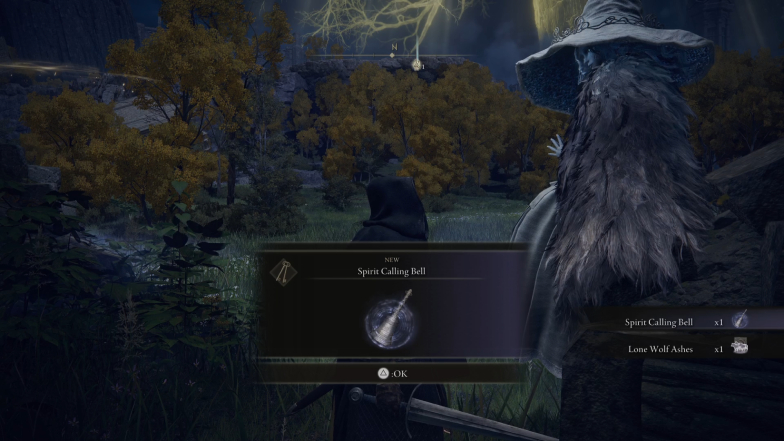 Melina will propose a trade in exchange for Torrent, the horse. Accept the offer and return back to the first location, i.e. the Elleh site of grace or Church. It should be night hours so skip through it. Once the morning lights hit, a new NP named Renna will appear. Renna is a witch and players are required to talk with her and advance the conversation provided. After that, Renna will offer the device, i.e. the Spirit Calling Bell, along with Lone Wolf Ashes to the player.
Players are then required to accept her offer. They can also choose to reject it but it won't matter as the end result will lead to the players getting both the Lone Wolf Ashes and Spirit Calling Bell in Elden Ring.
The Alternative Way
It is normal that some of us have skipped this opportunity. But do not worry, you can still get the Spirit Calling Bell in Elden Ring through this method. You can purchase the device from the Twin Maiden Husks in the Round Table Hold. You can also get the Lone Wolf Ashes through this same source. The only thing that you will require to have for this method to work is its access, which Melina will provide to you.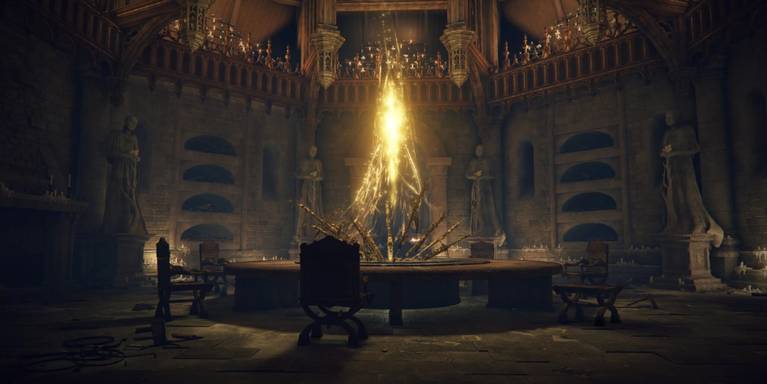 These are the two current ways through which players can obtain the Spirit Calling Bell in Elden Ring. It is recommended that players just use the first way if that's possible for them so they don't have to wait for the access. There is much more to learn about this game and we are here to talk about them through more series of articles.
ALSO READ | Lost Ark- All you need to know!
So for more interesting and exciting Anime, Hardware, and Gaming news and articles, be sure to follow us at redjacket.gg. We will also be providing more guides for both new and old games like Dying Light 2, Elden Ring, Minecraft, Genshin Impact, etc.