If you are looking for a guide to help you obtain The Catch polearm in Genshin Impact 2.4, then you are at the right place.
Genshin Impact is a popular gaccha game with beautiful visuals and a vast open world. It also features an ever-evolving storyline that is very immersive for even casual players. The huge open world of the game features a lot of playable characters, enemies, abilities, weapons, materials, etc. You can not always win with the selection of great characters and abilities, you would want to have a powerful weapon to wield. The Catch polearm in Genshin Impact is one of such weapons and here's how you can get it for free!
ALSO READ | Genshin Impact 2.5: New Characters, in-game boss, and more!
The Catch Polearm
The Catch polearm in Genshin Impact is one of the most efficient weapons you can wield. It falls under the rarity of 4-star, with a base ATK of 42, + 10.0% Energy Recharge as a bonus effect. This polearm also increases the Elemental Curst CRIT rate by 6% and Elemental Burst DMG by 16%. All in all, it makes this weapon a must for players.
There are different kinds and types of weapons in the game, and polearm is one of the many. Each character wields a certain type of weapon, meaning not everyone can use the polearm. If you want an example of someone that can, Raiden Shogun is a great example.
How to get The Catch polearm in Genshin Impact?
Players who want to have this weapon can do so for free! No need to spend any money on any weapons packs. But the process is not easy either, you have to do a certain quest to receive this weapon. Players can get The Catch polearm in Genshin Impact from the NPC vendor named Kujirai Momiji.
Where to find Kujirai Momiji?
You can find her near the Teleport Waypoint located at the west of Inazuma City. She is a part of the Inazuma Fishing Association. Once you find her, approach and interact with her. She will offer you a small challenge that you need to complete.
About the Fishing Challenge
Kujirai Momiji would ask players to complete a simple task of collecting a few types of fish for her. For this, she will exchange The Catch polearm with the player. The types and quantities of the fishes required for this challenge are listed below;
20 Golden Koi
20 Rusty Koi
6 Raimei Angelfish
Once you have collected all of them, you can go back to her and exchange them for the polearm.
You can also complete another challenge to receive up to 4 Ako's Sake Vessels that are required to refine the weapon. The total amount of fish required to do so are;
4 x 10 Pufferfish
4 x 10 Bitter Pufferfish
4 x 3 Raimei Angelfish
Fish Hotspots
There are multiple locations in the game from where you can catch these fishes. Here are some of the hotspots mentioned;
Mingyun village
Starfell valley
Koseki village
Wangshuu Inn
Luhua pool
Liyue Harbor
Ritou
Dawn winery,
Fort hiraumi
Springvale
How to fish in Genshin Impact?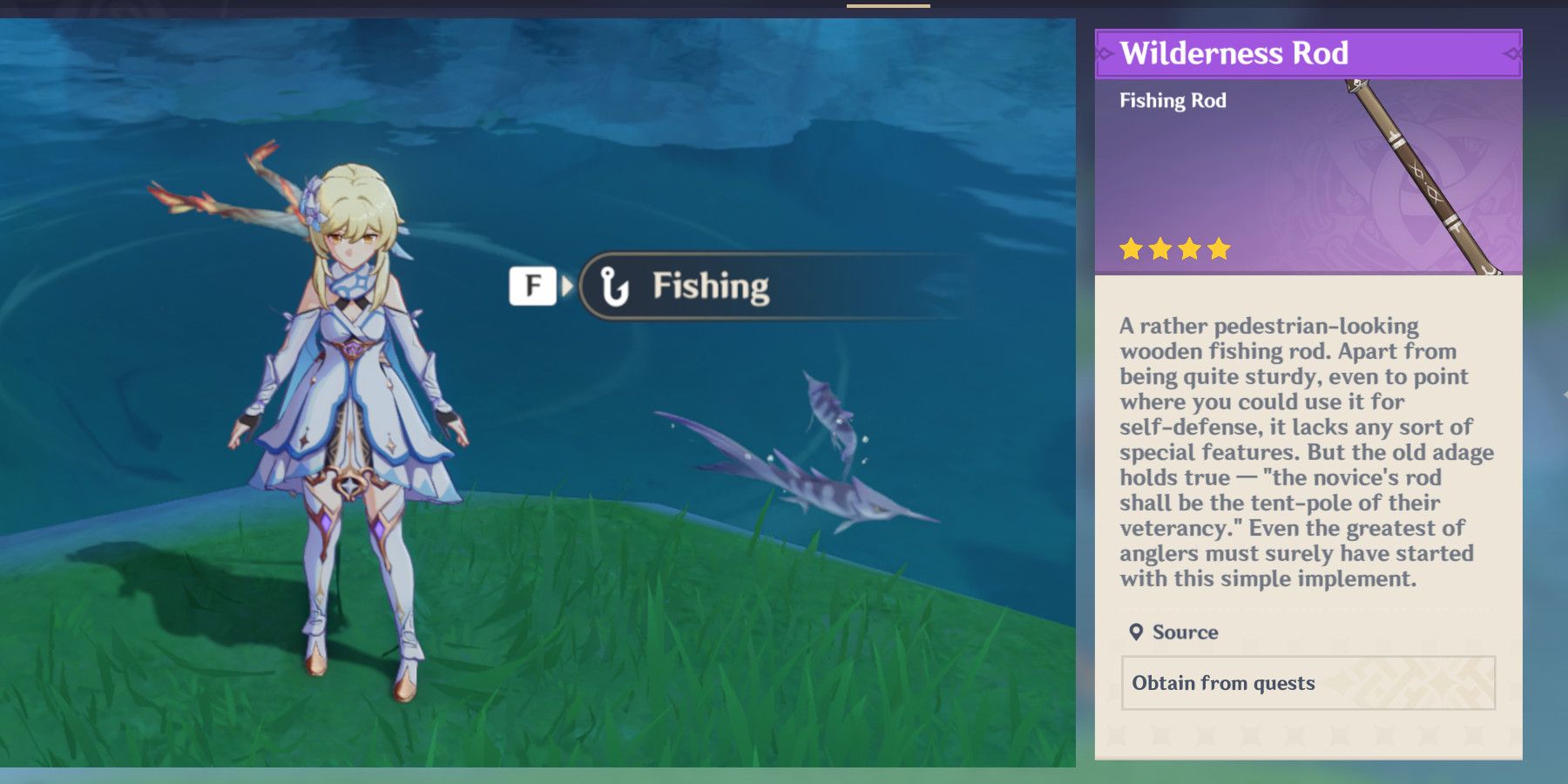 The fishing ability in the game can only be unlocked once the players complete the "Exploding Population" mission in the game. Players can swim in the water to catch fish but actually using a fishing rod is times better, practical, and easier.
When you have unlocked the fishing mechanic in the game, reach any of the fishing hotspots suggested above and go near the water until the option pops up. There are a few types of fishing rods and baits available, so select the ones you want carefully. After this is managed, start fishing to engage the mechanic. When a fish bites the bait, the fishing hook icon will come with a flash, click on it rapidly to catch the fish.
Types of bait required
To catch the fish required for this challenge, players will need to use certain types of bait. There are generally four types of bait available, here are the ones you need;
Golden Koi- Fake Fly Bait
Rusty Koi– Fake Fly Bait
Pufferfish– Fake Fly Bait
Bitter Pufferfish– Fake Fly Bait
Raimei Angelfish – False Worm bait
So generally speaking, all you will need are two kinds of bait and a quick hand for fishing. With the locations mentioned above, you will be able to complete the challenge in a very short time. You can also complete the other challenge to get the 4 Ako's Sake Vessels that are needed to refine the weapon.
This is everything you need to know about the challenge and how to catch fish in the game. You can easily complete the challenge to obtain The Catch polearm in Genshin Impact.
ALSO READ | Genshin Impact 2.4: A Guide to The Great Banquet of the Adepti Event
Be sure to follow us for more Gaming, Anime and Hardware related articles and news.