You can get a free pet called Kageroumaru in Genshin Impact now. This is a chance you should not skip as pets count as cosmetic items in most games and cost real money. To know more about it, be sure to read this article down below!
Genshin Impact is a popular action-adventure game, featuring a vast open-world and an exciting storyline. The game has been out for over a year now and has managed to secure a large fanbase. In our opinion, the thing that makes the game still interesting is the constant involvement of new in-game events and free rewards every now and then.
Also Read | Genshin Impact: 3 Useful Alchemy Crafting Recipes that you'll need
The Bantan Sango Case File Event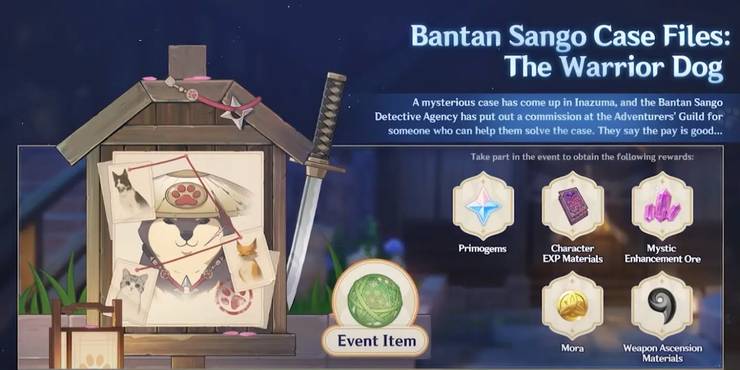 Similarly, the current Bantan Sango Case File Event is the new hype in the game. The best part about this event is when it's completed, it rewards the player with a free pet that they can keep thereafter.
The Bantan Sango Case File Event unfolds with the latest troubles caused in the localities by the Canine Bunshin. Players need to fend off against them to complete the challenge. The event consists of a series of quests that together leads to the big event.
The four quests in the Bantan Sango Case File Event
Bantan Sango Case File: Mystery of the Black Shadow
Bantan Sango Case File: Stealthy Trail
Bantan Sango Case File: The Truth (Just About) Comes to Light
Bantan Sango Case File: Recognition
These quests consist of some tasks that you have to complete and will get rewards for it. The Final quest, 'Bantan Sango Case File: Recognition' will lead to the last challenge of the event. Players will be required to find Ryuuji and talk to him. After that, players will be tasked with the job to find and fight Kageroumaru.
The final fight will take place within a special domain called Canine Path. It shouldn't be much of a tough job as Kageroumaru is not a very tough foe. The one thing players should be careful of is Kageroumaru's plunging attack as it inflicts heavy damage when struck. Other than that, your dodge and attack combos should be enough.
How to get Kageroumaru in Genshin Impact as a Pet?
After Kageroumaru is defeated, players will have to go back and talk to Ryuuji. This will conclude the last quest in the Bantan Sango Case File event. Following this, Kageroumaru will be automatically added to the player's in-game inventory.
But the worst part about it is that Kageroumaru will not follow along the traveler's path in the free world. This completely ruins the fun of having a pet in Genshin Impact that tags along in your journey. But either way, it is free and you can keep Kageroumaru forever.
How to put Kageroumaru in Serenitea Pot
Many people have the question about what will Kageroumaru's purpose be once unlocked if not it follows you. Well, there's a twist that makes your new pet useful in a certain way. You can place Kageroumaru as an animal in the Serenitea pot. You can navigate to the top right corner of your game screen and click on the 'hand' icon. There, you will find Kageroumaru under the animal section along with other pets like dogs and cats.
Perks
Placing Kageroumaru in Genshin Impact Serenitea pot will grant players 100 Adeptal Energy and you can interact with him to get some cool pet animations in the game.
It is cool in our opinion and you should take the offer and get Kageroumaru as your in-game pet.
Also Read | Genshin Impact- Useful Tips to help you survive the Sheer Cold
Be sure to follow us at redjacket.gg for more Gaming, Esports and Crytptocurrecny related articles and news.