One of Sony Playstation's exclusive gaming franchises has released a brand new title for their upcoming installment and the internet can not be happier about it. The recent Sony PlayStation event has announced many wonders that were fairly out of anyone's average expectations. The event made it possible for us to catch a glimpse of what is new is coming to the platform. These incredible titles include Spider-Man 2, a Star Wars: Knights of the Old Republic remake, a brand new Wolverine game, and obviously, the God of War: Ragnarok.
We will talk about the other ones in a few follow-up articles but for this one, the 'God of War: Ragnarok' has all the spotlight. Let us see some of the exciting things that we can figure out from the trailer, among some of the most eye-catching information that we have rallied up till now.
Also Read: Top 10 Upcoming (2021) Games – God of War, Far Cry 6 & many more.
God of War: Ragnarok and the Story
The God of War franchise has been a very successful project and after the massive success of God of War (2018), the new title Ragnarok is all set to be the successor. God of War: Ragnarok is the ninth installment in the God of War series and is a direct sequel to the God of War (2018), which means that it is going to pick up after its story which is few years after its events. We will be seeing the beloved father and son duo again in Ragnarok. The theme, in brief, is that the freezings winds of Fimbulwinter have started wandering over Midgard, making survival more challenging for Kratos, Atreus, and Mimir within the mythological Norse wild.
The new God of War: Ragnarok is still in the process of development by Santa Monica Studios. This title will be focusing on the main sublime aspect of the 2018 title, which will put more light on the good old father and son bonding under many tough conditions and hardships. Their appalling journey through the outgrowing and bone-shivering cold while fighting mythological gods and monsters is just the right genre to meet the fan requirements and expectations.
The main Antagonists
The new God of War game will be featuring Freya and Thor (about whom there is a lot to be said), the main two antagonists of this title. Following the death of her son Baldur, in the previous game, the ex-ally Freya is all out for seeking vengeance against our beloved protagonists. Freya is one of the formidable villains in the game and will turn everything upside down to get her revenge against her son's killer. The magical Vanir prowess and enraged warrior would be a great foe to fight against.
Now comes the second antagonist of the title, the fan-favorite Thor. With his abrupt introduction in the previous game, we will finally be seeing Norse's God of War Thor in full-fledged villain action. With the aim to claim vengeance over the death of his sons and half-brother, Thor will be guiding his interests over both Kratos and Atreus. Thor has been referred to as the "Biggest Butchering Bastard in the Nine Realms", a title he earned after nearly wiping out all the Giants at Odin's command. One of the most powerful Aesir gods with his thunder and lighting wretched Mjölnir would surely be a foe that everybody is looking forward to.
Characters and their Voice Artists
The characters of Kratos, Atreus, Thor, Tyr, and Angrboða are displayed vividly below with their descriptive enough pictures:
Thor- by Ryan Hurst
Kratos- by Christopher Judge
Atreus- by Sunny Suljic
Angrboða- by Laya DeLeon Hayes
Tyr- by Ben Prendergast
Odin- by Richard Schiff
Nine Realms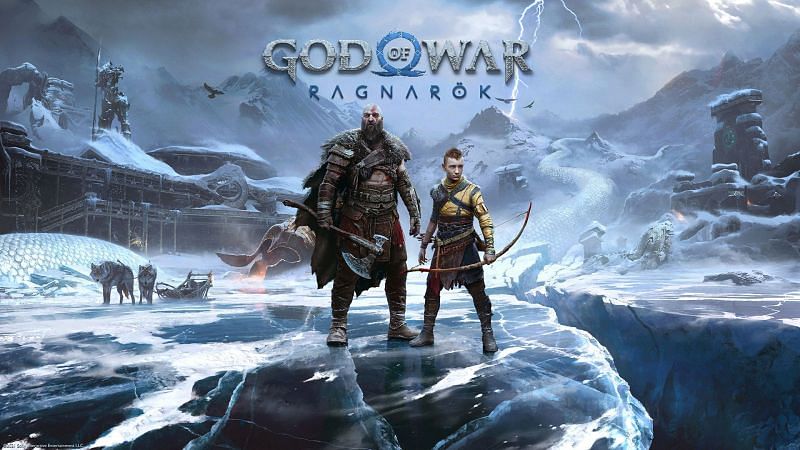 The God of War (2018) had allowed players to visit Six of the Nine Realms while on their journey. In God of War: Ragnarok, players will have the benefit to visit all nine of the Realms. The previously visited Six Realms included Midgard, Alfheim, Niflheim, Muspelheim, Helheim, and Jotunheim will be accompanied by the other three realms, which are Vanaheim, Svartalfheim, and Asgard. These were previously unreachable and gives you another reason to play Ragnarok, I mean why not?
Release Date and Platform
Ragnarok was set to be released this year, i.e. 2021, but got delayed due to the obvious global pandemic issues. The game now has a release window of somewhere within 2022.
The game, as always, is a Sony PlayStation exclusive and will release for both PlayStation 5 and PlayStation 4.
Our Thoughts
The God of War franchise has always been a massive hit and a fan favorite. One of Sony PlayStation's popular gaming series that fans all over the world are looking forward to. A worth it game for gamers and if you own a PS4 or PS5, or if you are looking forward to buying one, be sure to play God of War (2018) before you play Ragnarok to get a grasp of it.
Also Read: Assassin's Creed Valhalla- All ISU Weapons, Where to find them.
Be sure to follow us at redjacket.gg for more gaming, technology, and hardware-related articles and news.