Genshin Impact 2.5 is finally here as we talked about in the last article. Many have mentioned this update to be not a major one but with all the things it has brought, there can be a debate. The fans were very eager for all the new three characters in the game, especially the playable one, Yae Miko. Now that she is finally here, let's talk about her part in the lore and her abilities.
We will be talking about a detailed guide about Yae Miko's abilities so that you can judge for yourselves on whether to wish on her banner or you can dodge this one.
ALSO READ | HOW TO GET THE CATCH POLEARM IN GENSHIN IMPACT 2.4
Yae Miko in Genshin Impact
Yae Miko is the brand new playable character in the game that fans are thrilled about. She is now in the live game as of the 16th February Genshin Impact 2.5 version update. Let's talk about her part in the exciting and ever-evolving lore of Genshin Impact.
Players must have heard about her from the character, Raiden Shogun. Yae Miko oversees the Grand Narukami Shrine as the chief priest. Alongside, she is the owner of the Yae Publishing House. She is also said to be friends with Baal and Morax and a close acquaintance with Ganyu.
She is an Electro Catalysts user from the 5-star character rarity. As the new playable character from the Inazuma region, players can wish on her banner for a chance to have her in their party. The banner is called Everbloom Violet and apart from Yae Miko, players can get other characters like Fischl, Diona, and Thoma, who are worth it for 4-star characters in the game.
Her Abilities
Yae Miko is a 5-star Electro Catalyst user, which means she is a very useful character for combat. You can mix and match Miko with other elemental users and create a party that can tackle most of the challenges you will face. She possesses powerful abilities as mentioned below;
Normal Attack: SPIRITFOX SIN-EATER
Spiritfox sin-eater is Miko's base attack with three variants. On a normal attack, she summons Kitsune spirits that inflict Electro DMG on the enemy.
In a charged attack, in exchange for a chunk of her stamina, Miko deals Electro DMG to the enemies.
As a plunging attack, Miko plunges forward to the ground from mid-air and inflicts AoE Electro DMG to the enemy in the range.
Elemental Skill: YAKAN EVOCATION: SESSHOU SAKURA
As part of Miko's Elemental Skill, she summons a Sesshou Sakura that strikes a foe with lightning, which deals Electro DMG to them.
Miko's Elemental Skill has three charges, thus she can summon up to 3 Sesshou Sakura. These three can exist simultaneously with one another but if a Sesshou Sakura is summoned within close proximity of an existing one then the old one will be destroyed.
Each Sesshou Sakura has an initial level of 1 and these can increase up to level 3 each. Multiple Sesshou Sakura will increase their levels and boost their Electro DMG inflicted further on.
Elemental Burst: GREAT SECRET ART: TENKO KENSHIN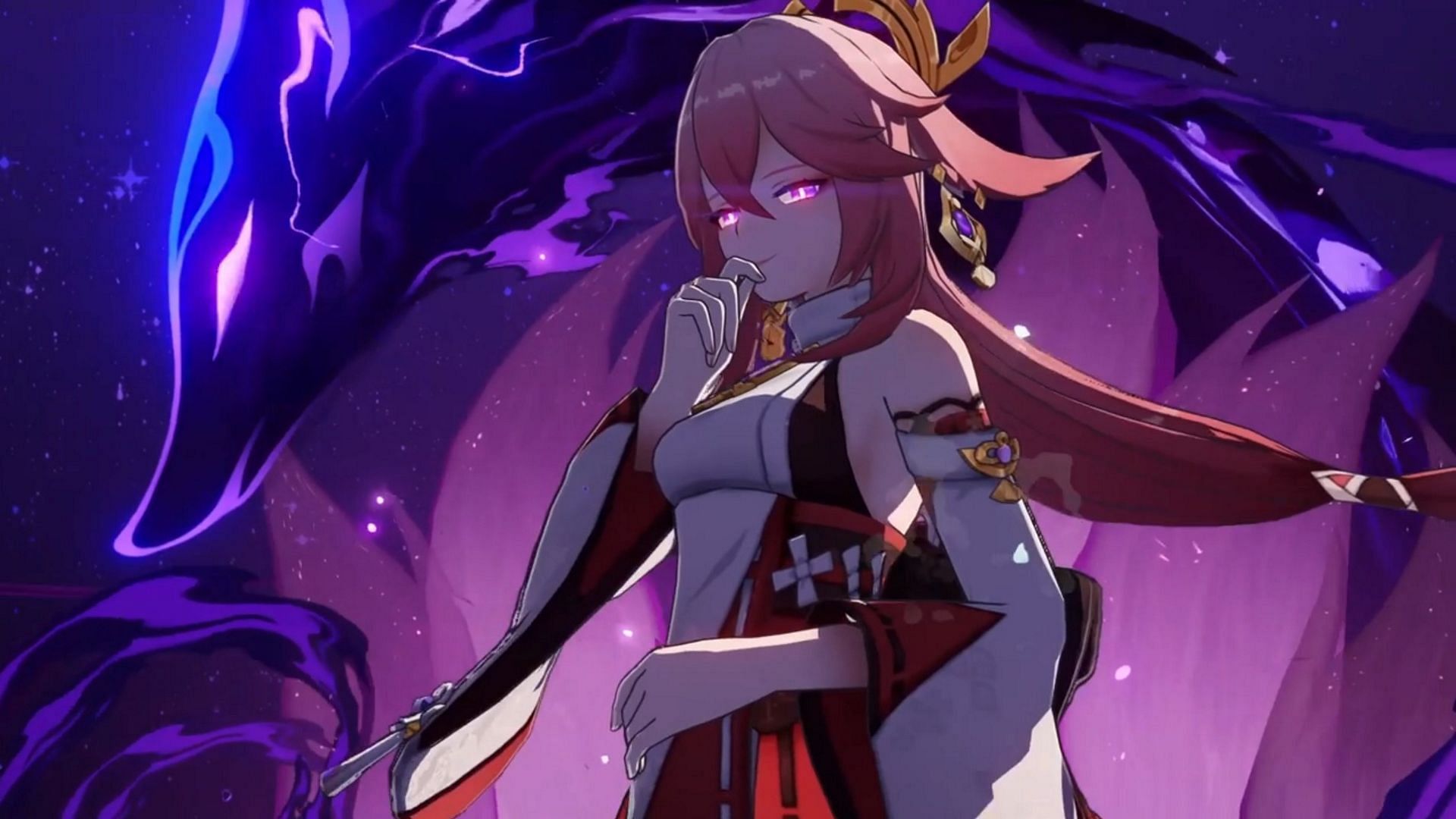 Miko's Elemental burst is a powerful skill that is perfect for a mid-ranged battle. This skill summons a massive lightning strike which inflicts enemy players with a lot of AoE Electro DMG in the area.
When Miko uses this skill, she also unseals Sesshou Sakura in the area. These Sesshou Sakuras lose their outer core and transform into Tenko Thunderbolts which descend from the sky and strike enemies. Each of them inflicts AoE Electro DMG to the enemy.
These are the important abilities that Yae Miko in Genshin Impact wields. Her passive ability is known as Meditations of a Yako. It lets her have a 25% chance to get any regional character's talent materials during rafting. Her first Ascension Passive is called The Shrine's Sacred Shade, which resets the cooldown for 1 charge of Yakan Evocation: Sesshou Sakura when each gets destroyed while casting Tenko Kenshin.
Her fourth Ascension passive increases the Sesshou Sakura DMG by 0.15% with every point of Elemental Mastery possessed by her.
ALSO READ | GENSHIN IMPACT 2.5: NEW CHARACTERS, IN-GAME BOSS, AND MORE!
There has been a detailed Character Guide for Yae Miko in Genshin Impact 2.5 and there is a lot more to know about her and other characters in the game.
So be sure to follow us at redjacket.gg for more Gaming, Anime and Hardware related articles and news!