Genshin Impact 2.6 is finally out and a lot of new additions were made to the game. The two key highlights of this update are obviously the new region called "The Chasm" and the new playable character, who goes by the name "Kamisato Ayato". Players are eager to get their hands on this new 5-star, hydro-user but before that, let us talk about Kamisato Ayato's abilities and how you can utilize him in combat situations.
So, to know more about the brand new playable character in the game and whether you should consider your luck on his banner, go through the article down below!
What we know about Kamisato Ayato in Genshin Impact
Kamisato Ayato is the brand new playable character that has been added to the game. He is a 5-star Hydro user, with abilities that you can count on during battle!
As the Genshin Impact lore goes, Kamisato Ayato is the head of his clan, called the Kamisato Clan, and is also the Yashiro Commissioner. Ayato is also known to be the leader of the Shuumatsuban, a ninja organization. Ayato is the older brother of Ayaka, a previously added Cryo user in the game. He is also friends with Thoma.
Now that we have figured out his background, let's look into his abilities!
Ayato's Abilities in Genshin Impact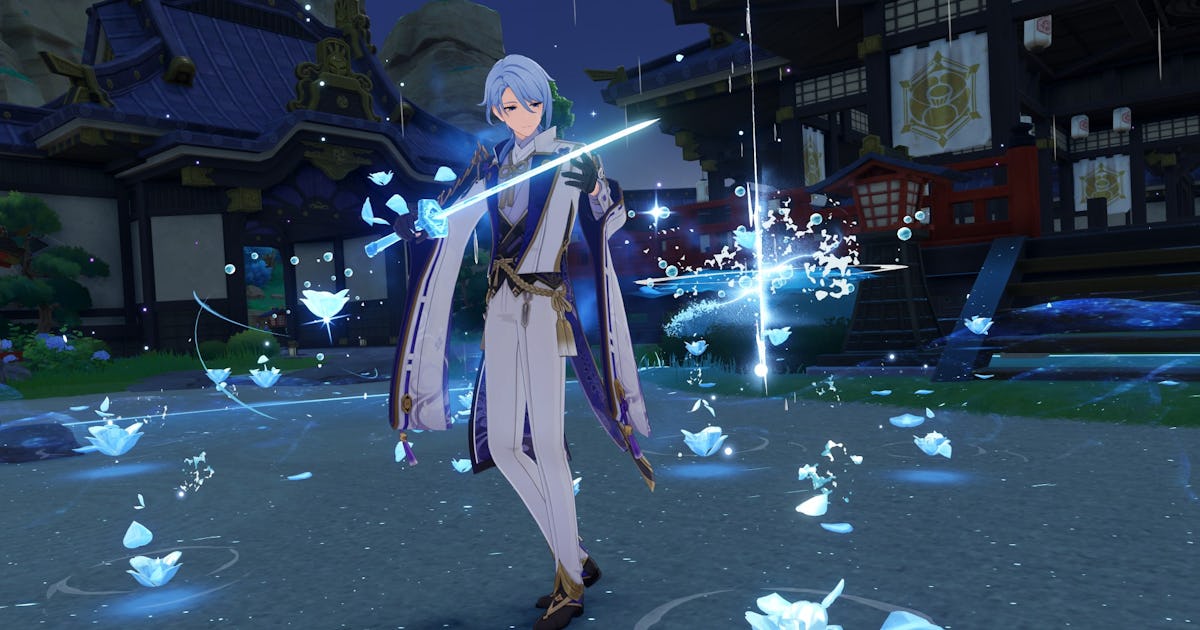 Kamisato Ayato is a Hydro elemental user of a 5-star rarity. He uses a sword as his primary choice of weapon. He belongs to the Inazuma region. And if we have an overview of his character then we can assure you that he is fast at slashing enemies. His ability set is quite an amazing one as you can see below;
Normal Attack: KAMISATO ART- KOROBI
As a normal attack, Ayato deals five quick strikes to the enemy.
As a charged attack, he performs a counter-attack while dashing forth.
As a plunging attack, he hits the ground from the mid-air position and inflicts quite the damage to the enemies in its close range.
Elemental Skill: KAMISATO ART- KYOUKA
Through his elemental skill, Ayato enters the Soukai Kanka state and summons a clone that is made of water. This clone taunts the enemies around it, attracting their attention. After some time, the clone explodes and it inflicts heavy Hydro DMG on the enemies in its vicinity.
Ayato summons the Shunsuiken, which is a water blade, and performs quick-paced attacks with it. And with every hit, he receives a Wave Flash that stacks up and increases damage infliction based on his maximum health point.
Also, while Ayato remains in his Soukai Kanka state, every single attack he does would inflict Hydro DMG instead of Physical DMG on the enemies. Once he leaves this state, this change is reversed.
Elemental Burst: KAMISATO ART- SUIYUU
When Ayato activates his elemental skill, a blue circle pops up on the ground. The enemies who stand within this area get heavy Hydro DMG called the Bloomwater Blade.
Any party member standing within this blue circle gets a significant attack boost, but this doesn't affect Ayato.
Ayato's Banner
Ayato has been available in the game since the Genshin Impact 2.6 update went live. The banner in which you will find him is called the "Azure Excursion" Banner.
Ayato's Passive Talents & Constellations
Ayato has two passive talents, one's called Kamisato Art: Daily Cooking and the other one is Kamisato Art: Kiyotaki Jouhou.
And as for his constellation, they are mentioned below;
Kyouka Fushi- Increases Shunsuiken DMG by 30% on enemies with HP below 50%
World Source- Wave Flash stack increases up to, along with 40% max boost for Ayato when he stacks 3 Wave Flash.
Endless Flow- On activating Suiyuu, all party members inflict 20% more Attack DMG for 10 secs.
Gensui Ichiro- Suiyuu level increases by 3.
To Admire the Flowers- Kyouka level increases by 3.
Boundless Origin- After using Kuouka, his following Shunsuiken attack creates two more strikes when all enemies are hit. Each of those inflicts 300% of his overall attack as DMG.
These are the important abilities that Yae Miko in Genshin Impact wields. Be sure to follow us at redjacket.gg for more Gaming, Anime and Hardware related articles and news!