If you want to learn about the abilities and how to utilize Lifeline in Apex Legends Mobile, then you are in the right spot.
With the release of Apex Legends Mobile worldwide, it has already acquired quite the success in the global mobile gaming market. The game is very well-made and ported for mobile devices and runs as great as it does on consoles and PC. As a battle royale, mobile gamers are generally habituated to the basics of the game. Which is getting good weapons, eliminating enemies, and staying alive as the last player to be the champion.
But guns are not everything in the game, as there are many legends with amazing and unique abilities to utilize them during games. One of the many legends of the initial Lifeline in Apex Legends lore is Lifeline. She is a medic character that is essential for every hero-based FPS game.
About Lifeline in Apex Legends Mobile
Lifeline in Apex Legends Mobile is the only healer character in the game right now, thus utilizing her abilities is crucial in the game. She is generally a passive character that provides assistance to the other members of the team. Like other legends, Lifeline in Apex Legends Mobile has also got three main abilities that you need to learn about in order to use them up to their fullest.
Abilities of Lifeline in Apex Legends Mobile
The three abilities of Lifeline are Combat Revive, D.O.C Heal Drone, and Care Package. Let us look into details about these abilities of Lifeline in Apex Legends Mobile;
Combat Revive – (Passive Ability)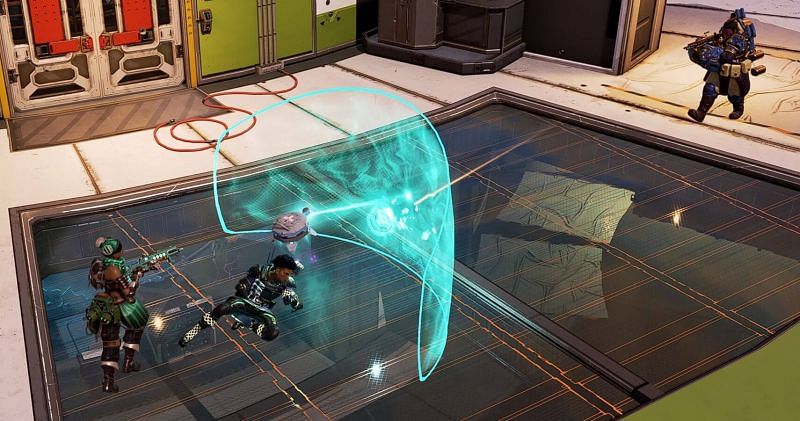 The combat revive is the passive ability of Lifeline in Apex Legends Mobile. This means it is always passively available and players do not need to activate it manually. Similarly, it doesn't have a cool down to itself either. With this ability, Lifeline in Apex Legends Mobile deploys a D.O.C drone that revives downed teammates within its vicinity. It can accomplish the job on its own and doesn't require Lifeline to do the reviving, meaning, she can continue fighting on her own while her teammates get revived. The D.O.C drone can revive up to two players simultaneously, which is a feature that was implemented after its shield was removed.
2. D.O.C Heal Drone – (Tactical Ability)
The D.O.C Heal Drone works for healing purposes too. When Lifeline uses this ability, she launches the D.O.C drone in the air that levitates mid-air and heals the player and her teammates within a range of 3 meters. It can heal very fast, with 8 HP healing being done every second.
3. Care Package – (Ultimate Ability)
Finding weapons in the game is not a tough job but finding proper attachments and other utilities can sometimes pose a challenge with the ultimate ability of Lifeline in Apex Legends Mobile. When she activates her ultimate, it summons a care package on the spot they would like to have, within a few seconds, dropping from above. This care package doesn't contain weapons but comes with healing items, a shield & helmet, and other gear and weapon attachments. It might not be an ultimate that is versatile in combat, but as an assistance providing legend, Lifeline's ultimate is really helpful.
Why and who should use Lifeline in Apex Legends Mobile
As for who should use Lifeline in Apex Legends Mobile, players who want to help their teammates and back them up during fights should utilize this legend. Playing aggressive legends to secure kills primarily or using legends with amazing tactical utilities sure sounds fun, but as a healer, you can cover your team and take fights simultaneously. As a support player playing Lifeline in Apex Legends Mobile, your chances of getting out of pinch situations are more.
ALSO READ | EASY GUIDE TO OCTANE IN APEX LEGENDS MOBILE
With this, we conclude our article about our Lifeline abilities guide. Be sure to follow us at redjacket.gg for more Gaming, Anime and Hardware related articles.