You will need at least one out of these 3 legendary weapons in Outriders to match up to the powerful foes. Here are all the necessary details mentioned below.
Outriders was one of the games in 2021 that carried a lot of buzz around it. The game was a hit or miss for many players whereas some people really enjoyed their time. The game had major bugs, Co-Op issues, poor optimization in some cases, and a disastrous launch. If we look past all that, we still get a game that is a pretty decent one of this genre in 2021.
About Outriders
With the demo out for a while, Outriders was released en masse on 1st April 2021. The game is a typical looter-shooter set in a different world. The theme is of a post-apocalyptic period where the Earth has been destroyed and now the protagonist finds himself stuck on a new planet with new problems and threats.
The game follows the rules of a typical looter-shooter where you have to walk around and kill a bunch of people who get loot to upgrade. Other than this, there are four player classes to select from with each having its own sets of skills and abilities that one can use on the battlefield.
Importance of Weapon Classes
The game has some of the hardest boss fights and mass fights that players easily struggle from. The proper gunplay, tactics, and use of abilities are required to win against such odds. There are some weapon classes/levels in this game just like you find on the other ones in this genre. The higher the weapon class, the more stats it packs, making them a preferable and better choice for a weapon.
The higher the weapon class is, the more effective it would be against stronger foes and you will find many of such challenges.
Top 3 Legendary Weapons in Outriders
The thing with legendary weapons is that they provide players with the most stats per class. The downside, however, is that one would need to have some serious hours and grind in the game to back the XP requirement to acquire them. But the price to be paid is worth it, as their impact on your playthrough is huge.
Out of many legendary weapons that are available in the game, here are our top 3 picks that will definitely ease up your playthrough.
The Iceberg
Grim Marrow
Voodoo Matchmaker
1- The Iceberg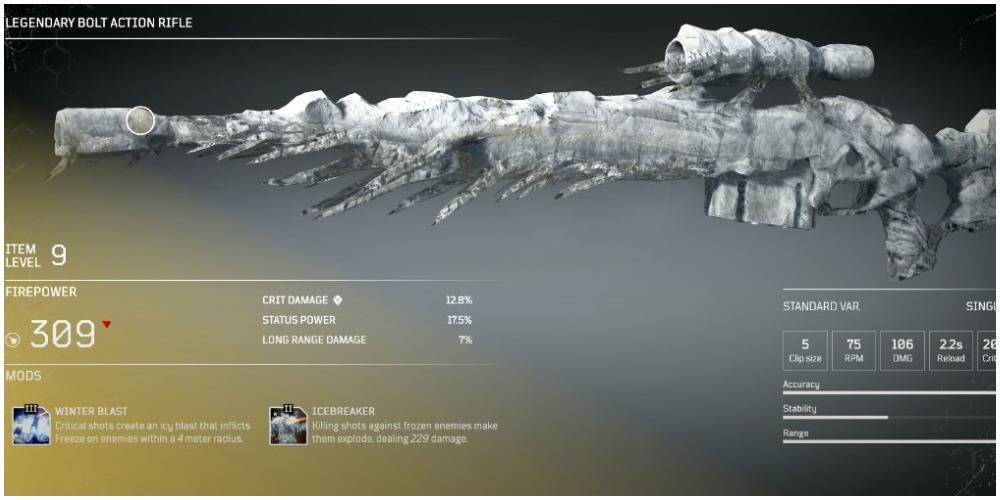 As a personal favorite and a weapon of our choice, you can never go wrong with the Iceberg. This weapon is very vital for long-range and support players as it provides the major damage from a distance without directly standing in front of harm's way. The Iceberg is a bolt-action sniper rifle and looks amazing for a sniper. It carries 5 rounds per magazine and shoots at a speed of 75 RPM. This is pretty standard for a bolt action rifle but the great part about it is that it takes 2.2 seconds to reload. It is long but not by much and as a support player, it is far more than suitable. The Iceberg has a 20% Critical Mult with a 100% Accuracy and is optimal for 200m in range for use. The gun supports two mods, namely the Icebreaker and the Winter Blast.
2- Grim Marrow
Now, let's move aside from the long-range and focus on a versatile gun that will be useful in both close and mid-range battles. The Grim Marrow is a light machine gun that carries up to 80 rounds of ammunition per clip. The powerful LMG shoots at a whopping speed of 545 RPM and has a 3 second reload time. For such a powerful LMG, the reload time is very minimal and would hardly be a disadvantage. The Grim Marrow has 91% Stability and 96% Accuracy. The two modes that these LMG features are Improved Stiffening and Singularity.
3- Voodoo Matchmaker
This one is a legendary assault rifle called the Voodoo Matchmaker. For every looter-shooter title, a proper gun that can deal heavy damage at both close and mid-range battles with great mag capacity and minimal reload time is heavily preferred. Assault rifles are usually the right contender for this aspect and they can also be used at long-range confrontations too. The Voodoo Matchmaker shoots at an effective 600 RPM rate with each magazine having 40 rounds. It only takes a total of 1.5 seconds time for a reload and complements with 91% Stability and 86% Accuracy. This one comes with a single mod named the Ultimate Damage Link.
Also Read: Outriders – Best Build for Each Class [ Pyromancer, Technomancer, Trickster, and Devastator]
These are our picks for 3 outstanding Legendary weapons in Outriders. Be sure to follow us at redjacket.gg for more Gaming, Tech and Anime related articles and news.