We have recently covered Valorant Champions 2021 Berlin draw results. The event will start within a few hours and gamers across the world are very excited about it. Let us have a look over the teams, groups, their representation, rules, and match schedules of the group stage one more time!
Valorant Champions 2021 Berlin
Riot Games have totally outdone themselves with their popular title in the competitive FPS esports title, Valorant. This 5v5 tactical and ability-based shooter has wielded itself right to the roots of the entire scene. After many successful regional and international-based events, the game is right at the doorstep to start off the new Valorant Champions 2021 Berlin.
This will be their first Pan-International event and all of this was achieved within a few a year and a half after its official launch. Many eyes will be glued to the screen with the Champions and it might break or make some viewership records.
Groups and Teams
As we have discussed previously, there are a total of 16 participating teams that have been divided into groups of 4 with 4 teams on each side. Out of 4, only the top 2 teams from each group will move to the Upper Bracket.
Group A- Ascend, Team Envy, Vivo Keyd & X10 Esports.
Group B- Sentinels, Team Liquid, KRU Esports & FURIA Esports.
Group C- Gambit Esports, Team Vikings, Crazy Raccoon & Team Secret.
Group D- Fnatic, Vision Strikers, Full Sense & Cloud9.
Rules
Rules are pretty much standard, including all matches except the final being Best out of 3. The Final will be played out as BO5. Playoffs will be in the order of single-elimination format. The group stage will be in a Double-Elimination format.
The new sentinel, Chamber, has been banned from this event as it is a rather new agent.
Valorant Champions On-Air Cast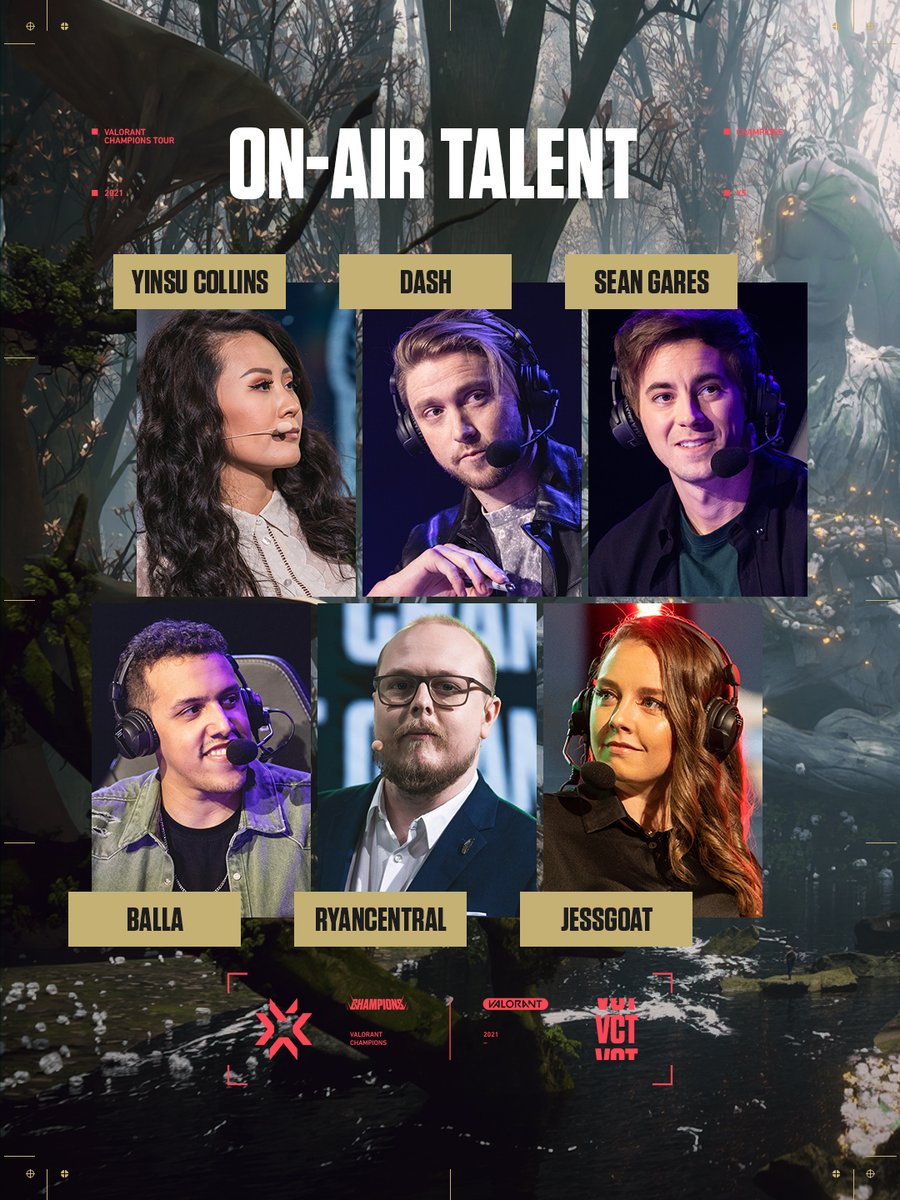 We have a great talented panel of the cast this year. The On-Air squad includes YINSU COLLINS, DASH, RYANCENTRAL, JESSGOAT, BALLA, RIV, PANSY, HYPOC, MITCHMAN, TOMBIZZ, PAPERTHIN, POTTER, DDK, ACHILIOS, ESPORTSDOUG, and SEAN GARES.
Match Schedule
01/12/21 [Wednesday]
Vision Strikers Vs Full Sense [6 am PDT]
Team Vikings Vs Crazy Raccoon [9 am PDT]
Fnatic Vs Cloud 9 Blue [12 pm PDT]
02/12/21 [Thursday]
Gambit Vs Team Secret [6 am PDT]
KRU Esports Vs Team Liquid [9 am PDT]
Sentinels Vs Furia [12 pm PDT]
03/12/21 [Friday]
Ascend Vs Keyd Stars [6 am PDT]
Envy Vs X10 Esports [9 am PDT]
TBD [12 pm PDT]
04/12/21 [Saturday]
TBD [6 am PDT]
TBD [9 am PDT]
TBD [12 pm PDT]
05/12/21 [Sunday]
TBD [6 am PDT]
TBD [9 am PDT]
TBD [12 pm PDT]
06/12/21 [Monday]
TBD [6 am PDT]
TBD [9 am PDT]
TBD [12 pm PDT]
07/12/21 [Tuesday]
TBD [9 am PDT]
TBD [12 pm PDT]
Also Read | VALORANT CHAMPIONS BERLIN 2021- A LOOK INTO GROUP B
Be sure to follow us at redjacket.gg for more Esports and Cryptocurrency-related articles and news.