The next stage in the future, that is, the evolution of the internet and cryptocurrency has been marked after the numerous possibilities of securing space in Web 3 by Indian Startups. This has also attracted Venture Capital (VC) firms for investments.
These Indian startups include the popular crypto, blockchain technology, and non-fungible tokens (NFTs), which are growing popular day by day. These startups have acquired over $500 million just in 2021 [Sourced by Venture Intelligence, a data provider]. The majority of this invested amount had already gone into these crypto startups. The crypto exchange has a value of nearly $445 million, which shows us nineteen times more in value as of 2020.
Also Read | CRYPTOCURRENCY IN RUSSIA- ABOUT $67 BILLION INVESTED
Real-Time Reports and Results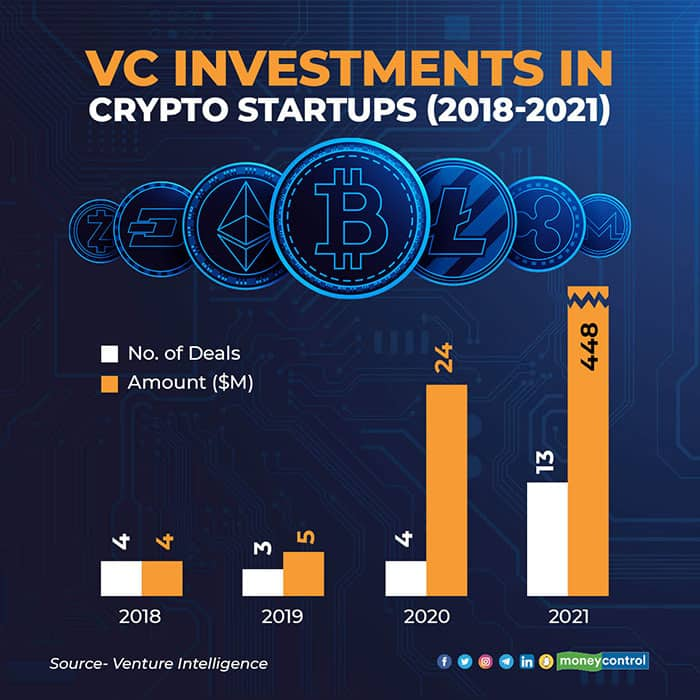 The reports by moneycontrol show that the exchange value of 2018, 2019, 2020, and 2021 has been valued at $4 million, $5 million, $24 million, and $448 million (appx.). Nitin Sharma, partner and global blockchain lead at prime-stage VC firm Antler Global, has said that the application side of crypto is still very underdeveloped. Whereas, the asset side is comparatively more developed. He goes on further and mentions that in the coming year, i.e. 2022, they are planning to see more developed infrastructure and tooling for DAOs, along with some real-world applications of non-fungible tokens (NFTs).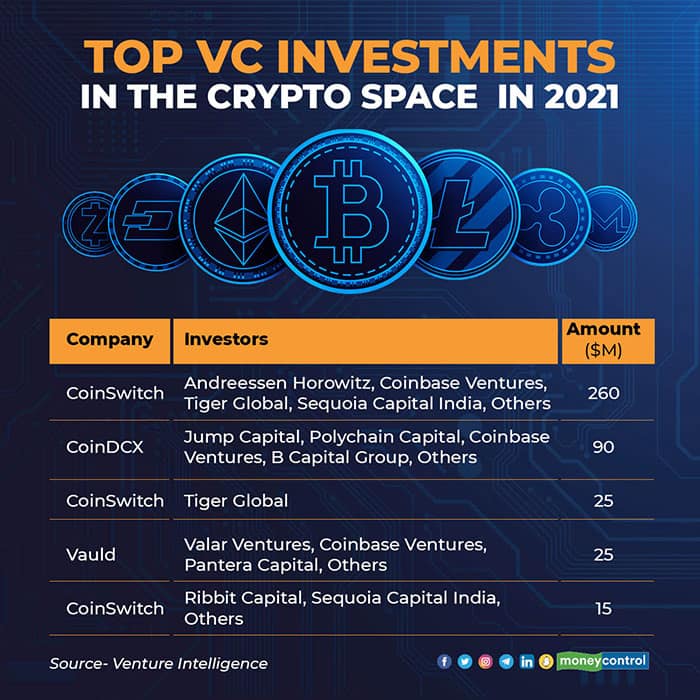 What is DAO?
DAO stands for Decentralized Autonomous Organization, which is a form of investor-driven venture capital fund. This also takes into action the total funding in space to be increased by 5 to 6 times within 2022. The more global venture firms planning to look at space will be one of the reasons behind the increment. Also, further clarity on the entire crypto regulation of the country will help in boosting more and larger investments.
According to Venture Intelligence, the top VC investments in the crypto Space in 2021 are by the company CoinSwitch with investors like Andreessen Horowitz, Coinbase Ventures, Tiger Global, Sequoia Capital India, and Others. The amount values up to $260 million. The company CoinDCX also has a considerable amount of $90 million with investors like Jump Capital, Polychain Capital, Coinbase Ventures, B Capital Group, and others.
The Indian Government and its residents are rapidly moving towards a more digital approach in terms of regulation of money. The interest in crypto and other digital assets has also surged a considerable amount among the youth of the nation. But as of the current condition, crypto is still not considered as a legal tender in the country.
Better Capital is a fund that has already invested in more than 10 crypto startups so far. Vaibhav Domkundwar of Better Capital has stated that the current pace of funding in Web 3 and Crypto is far ahead of the other sectors in the second half of 2021. He expects such growth to continue further in 2022 and sees a great possibility of growth. Mr. Domkundwar also said that several categories like the gaming industry can expect to experience a dramatic and quick evolution with the play-to-learn model that is being powered by NFTs.
Nischal Shetty, the co-founder of a crypto exchange platform called WazirX, has stated that token investments in the country and the world have been rising evidently with each passing year and they will continue to grow. He also stated that it is easier for entrepreneurs to grow their networks through such tokens. It serves two purposes, the first one being able to raise money for the venture and the second one is to earn loyalty from the investors to have purchased the tokens.
Also Read | UBISOFT GAMES INTRODUCES NFTS TO GHOST RECON BREAKPOINT
Be sure to follow us at redjacket.gg for more Esports and Cryptocurrency-related articles and news.