On 10th September 2021, Bandai Namco Entertainment released their seventh roleplaying game in their Tales series, called Tales Of Arise. This game is only available for PS4, PS5, Xbox One, Xbox series X/S and Microsoft Windows users. Even though the developers planned to release this game in 2020 but due to some issues they had to delay the release date.
Also Read: Roark's Attack on Titan.
Plot:
The plot follows a disastrous incident that took place 300 years ago in Danha, when Rena, an advanced world, attacked the medieval world. The Renans enslaved the whole civilization.
They divided Danha into five isolated nations. Every ten years, each lord of every nation comes forward to compete with each other, and the winner will be chosen as the next Renan Sovereign.
Alphen, a man from Denha, who is completely unaware of his past, encloses his head with an iron mask, is our main protagonist along with an outcast Renas woman named Shionne Vymer Imeris Daymore, who owned some mysterious powers, decided to take down on Lord with Alphen. We also have Rinwell, a young sorcerer from Danha, a former agent of Rena who also is a material artist named Law, Dohalim il Qaras, who happens to be one of the five lords, and Dahnan knight named Kisara who also is a servant of Dohalim.
Characters: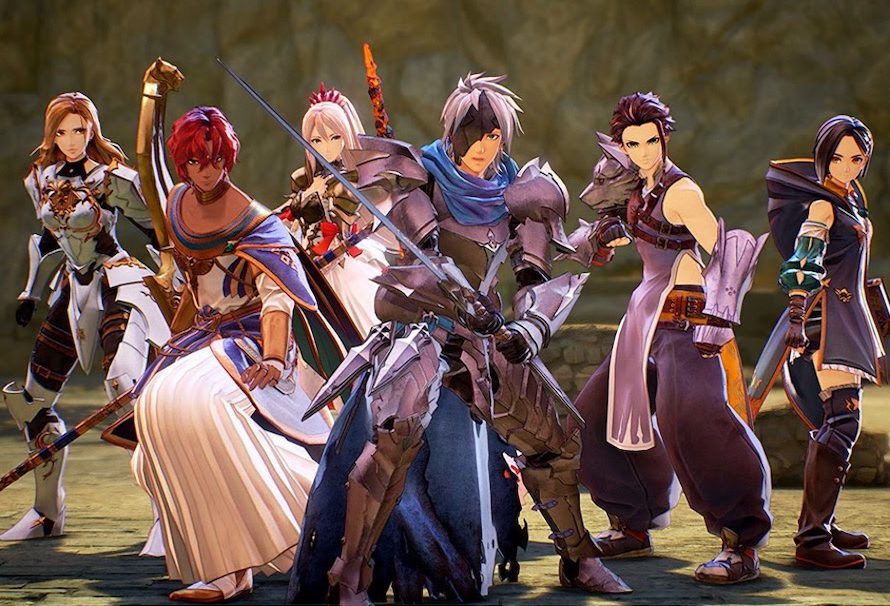 Alphen–
Alphen, one of the two main protagonists in Tales of Arise, once woke up with no remembrance of his past and zero pain in his body. He has grey eyes and neck-lock white-colored hair. He is also known as Iron Mask.
He is a swordfighter and his special combat is close-quarter combat. He sports a display of rapid artes that bonds well concurrently making him satisfactorily suited to encounter any rival Dahna heaves him. He can easily sacrifice his HP to use combat called Flaming Edge, which is a dominant, wide-reaching gleaming sword attack.
Shionne Vymer Imeris Daymore-
Shionne Vymer Imeris Daymore, a Renan woman who is the other main protagonist in Tales of Arise. She has strawberry blond hair and blue eyes. It is said that she brings a curse of thrones to anyone who touches her.
Shionne specializes in gun-based long-range attacks and astral artes, enabling her to strike opponents from a safe distance, and use rehabilitating artes on confederates with low HP.
Rinwell-
Rinwell is another playable character in Tales of Arise. She has jaw-length black hair and brown eyes.
Even though Dahnan's blood runs through her veins, she can use astral artes.
Rinwell is a long-distance combatant who predominantly counts on astral artes. However her artes are powerful and have an expansive reach, releasing them takes time, so she requires to maintain her distance from the rival before undertaking any rates.
Law-
Law is also a playable character in Tales of Arise. Even though he is from Danha, Calagia, he is now an active member of the police organization of Rena called the Bureau of Observation. When Alphen and his allies arrived at Cyslodia, Law initially confronted them. He has spiky brown and pink striped hair with a long bang on the left side and blue eyes.
He mainly uses his fists during battles. He is an excellent fighter who can use all four limbs as a weapon. Law can unleash strings of attacks as if it is a demonstration, unrestrained by any counter-strike that comes his way.
His remarkable ability is Awakening, which enhances his Attack and the Elemental Attack.
Dohalim il Qaras-
Dohalim il Qaras is another playable character in Tales of Aries. He is the only Renan Lord who wants to be friends with Dahnans. He has curly, red-colored hair and brown eyes, and dark skin.
Dohilam mostly fights with his rod, spinning at various arches. He not only can utilize his weapon to act like a boomerang but also discharge cosmic energy from it. His remarkable ability is known as Rod Extension and after a precise dodge, his rod becomes stronger, boosting his strike range and possibilities to land momentous hits.
Kisara–
Kisara is one of few playable characters in Tales of Arise. Kisara is a Renan soldier and works under Dohilam. She is known as one of the strongest in the Dahnan army. She is highly respected by the Renans as well. She fights with a bulky mace and tower shield. Kisara has blond long hair with amber eyes.
She manipulates her mace and legs in a battle with the focus on her shield. Kisara's unique ability is known as Guard Ignition, which allows her to use guard instead of dodging attacks.
Also Read: Project Shinobi: An Open-World Naruto RPG.
Conclusion:
The Tales series has been a popular game among the fans of roleplaying gaming for quite a while. This game has put a big priority on evading and contradicting, with Tales of Graces, 2009 which had been praised for its warfare. Keep following redjacket.gg for more exciting articles.