The annual JUMP FESTA has showcased some great Shonen Jump that is scheduled for release in 2022. Well, the list does go far beyond a few but in this article, we will be focussing on the top 5 upcoming hyped anime of 2022.
There are various genres in Anime to select from, notably Mecha, Shounen, Ecchi, Seinen, Shoujo, etc. We can't sum up this article by including every single one from these so keep that in mind. These top 5 upcoming hyped anime of 2022 is made according to our personal preferences, and if you would like to suggest some titles for an upcoming article then be sure to comment down below.
Also Read | 5 ANIME MOVIES TO WATCH DURING CHRISTMAS HOLIDAYS [2021 EDITION]
5 Upcoming Hyped Anime of 2022
This list may contain spoilers of previous seasons, user discretion is advised.
5- Dr. Stone Season 3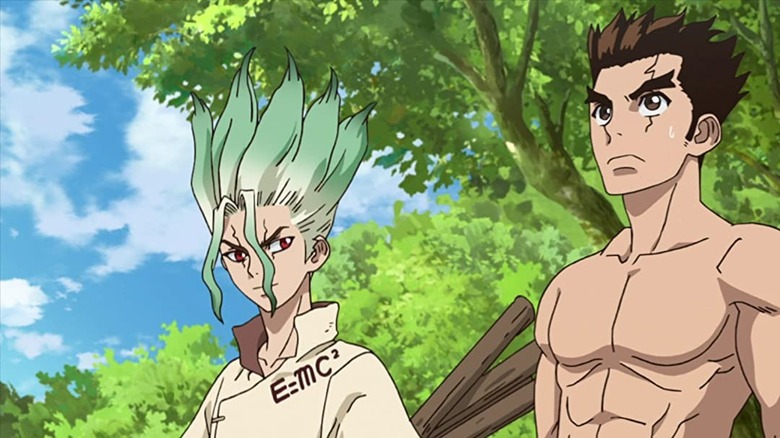 Join in for the next adventures in the world where everyone is petrified. Senku Ishigami, Taiju, Yuzuriha, and others to see how their goal to reestablish human civilization with the help of Science proceeds. The show is heavily based on science so it provides a unique aspect to the genre. The whole scientific shenanigans are expected to release somewhere around April 2022.
4- Kaguya-Sama: Love is War Season 3
After the immense popularity of the previous two installments in the series, Kaguya-Sama is scheduled for Season 3 in the upcoming year. Kaguya-Sama is a popular anime with a take on a more comedic and romantic approach with Kaguya and Shirogane as the main two characters. Season 3 is once again scheduled for April 2022.
3- Bleach: Thousand-Year Blood War Arc
Here comes one of the popular fan-favorite titles, Bleach. The show stars Ichigo Kurosaki who has the ability to see ghosts and due to certain events, becomes a soul reaper. The 2012 cancellation of the manga and the unwelcomed end of the anime kept the fans waiting. The conclusive final arc of Bleach called 'The Thousand-Year Blood War' is thus massive news for fans across the world. The arc is scheduled to be released somewhere around October of 2022.
2- Chainsaw Man
Everyone must have already heard about Chainsaw Man and the rising popularity it had been receiving. The anime release for the show is set to be happening in the upcoming year. The realm of Chainsaw Man, as seen in the manga, is ravaged with devils. It stars Denji, a small-time devil hunter, who is trying everything to survive in this cruel world. But due to getting killed in a job, he has been revived with new powers as the Chainsaw Man, ready to do anything for money. There hasn't been any specific release window bt will be airing somewhere in 2022.
1- Attack on Titan Final Season Part 2
Attack on Titan is undoubtedly one of the best manga/anime of the decade. The show has already aired 3 seasons and a half of the final season. Anime fans around the world are invested in the dark storyline of the show that involves giant-humanoid titans and a secret that changes everything. The second part of the final season revolves around huge mysteries and what next decision the protagonist, Eren Yeager, would take to change the cruel world forever.
ALSO READ | 3 Anime Series For Beginners- Available on Netflix!
This should conclude our today's list starting top 5 upcoming Hyped Anime of 2022 that everyone has been waiting for. Again, there are various other shows in-line for the new year so if you want to see a similar list for some specific genre, let us know.
Be sure to follow us at redjacket.gg for more Esports, Anime, and Cryptocurrency-related articles and news.